---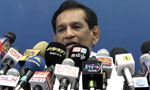 Cabinet spokesman, Health Minister Dr. Rajitha Senaratne today said the underworld gang "Aava" active in the North was a creation of former Defense Secretary Gotabaya Rajapaksa and certain top military officers.
He said though there may be some rationale to use them against the LTTE during the war, in the peace time they are only a bunch of criminals and thugs who should be apprehended at once and brought before the law.
Addressing the weekly Cabinet news briefing, Minister Senaratne said it was obvious that the same officials who fed and bred them were once again active and instructed the terror group to create troubles and disrupt peace in the North for their political advantage.
"For a moment you can justify the action taken by former Defense Secretary and military officers to form this underworld group because the LTTE was also an illegal terror group. But why it is active in the peace time? What they expect by creating a fear psychosis among the civilians in the North?, he questioned and added all members of the Aava group were Tamils.
Minister Senaratne dismissed the suggestion that this underworld group was a creation of the Tamil Diaspora and said Aava was active in the North during the war and the armed forces were aware of that and added he could even reveal the name of the Brigadier who acted as the god father of the 'Ava group' during the war.
The Defense Ministry has given clear instructions to the police and intelligence services to apprehend them as early as possible and take legal action against them, he said. (Sandun A Jayasekera)