---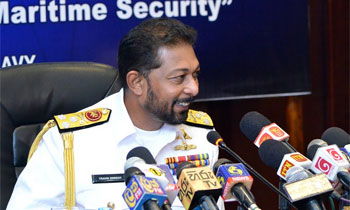 What happens in the Indian Ocean will ultimately affect Sri Lanka which is a small country on the maritime trade route, Navy Commander Travis Sinniah said yesterday.
He said there was competition for the Indian Ocean and major countries such as the US, China and India were interested in it.
"These are challenges that Sri Lanka has to face as we are a small country. We depend on the sea. We can only survive if we can keep the sea lanes open. The challenge is to see that Island is connected by sea without being held to ransom by anybody else," Vice Admiral Sinniah said.
He told a news briefing held at the Navy Headquarters that the Galle Dialogue, the International Maritime Conference, had placed Sri Lanka on on the maritime map.
"We have to see that we speak about these things and overcome the challenges in the case of conflict. That is why we need to have conference so that we can form partnerships, we can have cooperation and we can have allies so that Sri Lanka will never be isolated' he said.
The Navy Commander said Sri Lanka had always been an Island that people had fought for having known its importance.
"The Indian Ocean has witnessed an unparalleled maritime dangers during the past decade such as proliferation of arms, piracy, human trafficking, maritime terrorism and narcotics trafficking which in turn threaten the stability of the region and pose a great threat to Sea Lines of Communication. In this regard, Sri Lanka Navy played an enormous role for nearly two decades to defeat maritime terrorism and further strengthened the maritime security and safety of SLOCs in Indian Ocean Region," he said.
The Galle Dialogue was inaugurated by the Sri Lanka Navy in 2010 under the patronage of the Ministry of Defence. This year's theme of the Galle Dialogue is 'Greater Maritime Visibility for Enhanced Maritime Security'. It will be held at the Gale Face Hotel in Colombo on October 9 and 10.
The purpose of this conference is to provide a common platform for stakeholders of national and international repute to discuss and deliberate maritime related issues.
At least 100 participants from 30 countries including US, China and India will attend the this year conference.(Darshana Sanjeewa)