---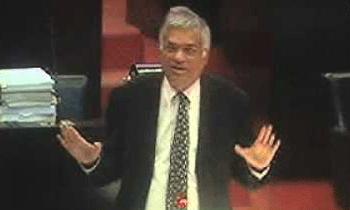 Political party leaders in Parliament will meet officials of the Bar Association of Sri Lanka (BASL) to discuss the process followed in approving the Provincial Council Elections (Amendment) Bill recently, Prime Minister Ranil Wickremesinghe said today.
He said this in response to a question asked by joint opposition parliamentary group leader Dinesh Gunawardane.
"The BASL has said the process followed by the government in enacting the PC Election (Amendment) Bill was wrong. It has also sought a meeting with the President and the Prime Minister. We would like to know what the government intends doing about it," Mr. Gunawardane asked.
The Prime Minister said he had assured the BASL that party leaders will meet its members to discuss this matter and pointed out that procedures pertaining to enacting of Bills had to be decided by Parliament as laid down in the Constitution. (Yohan Perera and Ajith Siriwardana)