---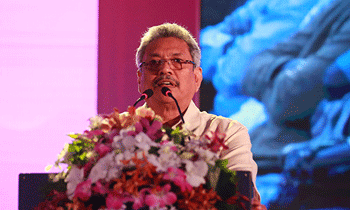 A new Constitution or Parliament shouldn't be allowed to reverse the victories which were accomplished by uniting the country after defeating terrorism, former Defence Secretary Gotabaya Rajapaksa said.
Speaking at the launch of 'Eliya' (light) Forum in Colombo on Wednesday, Mr. Rajapaksa said people fear that the accomplished victories would be scraped by bringing in a new Constitution.
"This is why experts coming from different fields decided to create the 'Eliya' to enlighten the public about the new Constitution. We want to inform the people that the new Constitution should not be brought in," he said.
He admitted that there were shortcomings of the current Constitution but said the motives behind the introduction of a new Constitution were dreadful.
"The same group which collected funds for the LTTE and supplied weapons to them, are today attempting to achieve what they couldn't accomplish from terrorism. The new Constitution is a necessity of separatist Tamil politicians and international organisations which attempted to hinder the war against the LTTE," he said.
He said they have no faith in the government which is attempting to introduce the new Constitution.
"We saw how the government assured army leaders that the Office of Missing Persons (OMP) would not be set up. However, it was established later on. The government always said it would protect war heroes but today a large number of soldiers had been imprisoned," Mr. Rajapaksa charged.
Ven. (Prof.) Medagoda Abhayatissa Thera, Rev. Fr. Wimal Thirimanna, Dr. Dayan Jayatilleka, Sarath Weerasekara, Thamara Kunanayagam, Manohara de Silva PC, Ajith Nivard Cabraal, Rushdi Habeeb and Dr. Seetha Arambepola also addressed the forum.
Members of clergy, a number of politicians, including former President Mahinda Rajapaksa, artistes, academics and professionals attended the event. (Lahiru Pothmulla)