---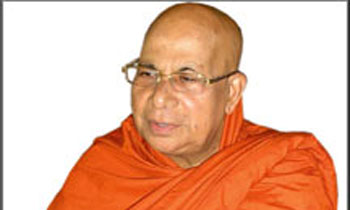 The Maha Nayaka of the Amarapura Maha Nikaya Venerable Kotugoda Dhammawasa Thera and the Buddha Sasana Karya Sadaaka Mandalaya, a leading Buddhist organization, has opposed certain sections of the Interim Report on the new Constitution that was presented by the steering committee of the Constitutional Assembly recently.
A statement issued by the organization said the report has suggested the inclusion of "Sri Lanka (Ceylon) is a free, sovereign and Independent Republic (aekiya rajya/orumiththa nadu) consisting of the institutions of the Centre and the provinces which shall exercise power as laid down in the Constitution' when defining the nature of State.
However, it said the Tamil word 'orumiththa nadu' means united. The organization said this could be an attempt to achieve federalism. Additionally, it said it was opposed to an alternate section being included in the report on the status of Buddhism in the country.
Accordingly, the organization said it is opposed to the wording that had been included which states that other faiths would not be discriminated against while giving the foremost place to Buddhism. "It is not clear as to this applies in this situation when other religions are not subjected to discrimination even now".
The statement has been signed by Venerable Maha Nayaka of the Amarapura Maha Nikaya Kotugoda Dhammawasa Thera, Venerable Welihitiyawe Kusaladhamma Thera, Venerable Bellanwila Wimalaratana Thera, President, All Ceylon Buddhist Congress Dr. Praneeth Abeysundara and Jagath Sumathipala along with a host of other monks and laymen. (Yohan Perera)