---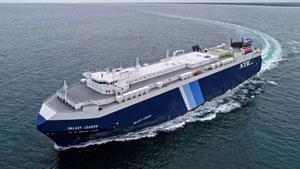 BBC - Japan has strongly condemned the hijacking of Japanese-operated cargo ship Galaxy Leader in the Red Sea by Iran-backed Houthi rebels.
The Yemeni militia claimed the vessel was Israeli, but a Japanese government spokesperson said the car carrier was operated by Nippon Yusen.
Japan's chief cabinet secretary said it is working towards its release.
Israeli Prime Minister Benjamin Netanyahu blamed Iran, which backs the Houthi militia, for the hijacking.
Mr Netanyahu said neither the vessel nor the crew were Israeli, and called it an "Iranian attack on an international ship".
Twenty-two people are believed to be on board the vessel which is thought to be British-owned.
Nippon Yusen said the Galaxy Leader was seized off the coast of Yemen on its way to India.
"Currently, ministries and agencies including the transport ministry and the foreign ministry are gathering information and working with the relevant countries for the early release of the vessel and its crew," Hirokazu Matsuno, Japan's chief cabinet secretary, said.
Those on board are believed to include Bulgarians and Filipinos, with no Japanese nationals among the crew.
The military spokesman of Yemen's Houthi rebels, Yahya al-Sarea, claimed the ship was Israeli and had been taken to a port in Yemen.
The Houthis had earlier threatened to target any Israeli ship within their reach in response to Israel's retaliatory military action in the Gaza Strip following the 7 October attack by Hamas militants.
Israel says 1,200 people were killed and more than 240 taken hostage during the surprise Hamas attack on the south of the country.
Israel has launched a massive military operation - involving air and artillery strikes as well as ground troops - with the aim of eliminating Hamas.
The Hamas-run health ministry says the death toll in Gaza since then has reached 12,300. More than 2,000 more are feared to be buried under rubble.
The Houthis have fired several missiles and drones towards Israel just after Israel launched its retaliatory operation.
The US said at the time that all the missiles and drones were intercepted by its warship in the Red Sea.
The Israel Defense Forces (IDF) described the attack on the ship as a "very grave incident of global consequence".
The IDF said the vessel was on its way from Turkey to India when it was seized in the southern Red Sea near Yemen.
Iranian Foreign Minister Hossein Amir-Abdollahian has recently said that what he called resistance groups allied to Tehran were "cleverly adjusting pressure" on Israel and its supporters.
Earlier this month, the Houthis shot down a US military drone off Yemen's coast, American officials said.
The Houthis have been locked in a prolonged civil war with Yemen's official government - backed by Saudi Arabia - since 2014.