---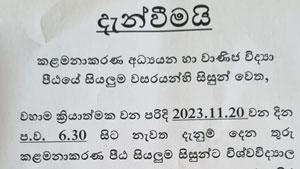 COLOMBO (Daily Mirror) - The administration of the University of Sri Jayewardenepura had prohibited entering students into the premises of the Management Faculty until further notice.
This notice was issued by the Vice Chancellor of the University today.
According to the notice, all students of all years in the Management Studies and Commerce Faculty will not be permitted to enter the faculty premises from 6.30 p.m. today until further notice.
Senior Professor of Sociology Mayura Samarakoon told the Daily Mirror that the decision was taken after a group of students had taken the Vice Chancellor and several lecturers as hostages for suspending them for illegal activities.
While holding the Vice Chancellor and lecturers hostage, the students were compelled to reverse the decision by the university administration.
The Vice Chancellor had said he was unable to reverse the decision by the university administration until the situation at the university returned to normal.
The university administration had taken the decision to suspend the entry of the Management Faculty students to the university premises from today, and the students protested against the decision.