---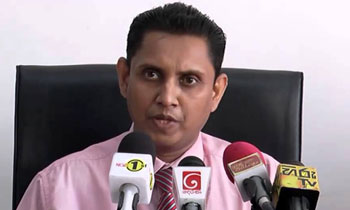 Healthcare and education services countrywide were disrupted today because of the 24-hour strike launched by several trade unions against the South Asian Institute of Technology and Medicine (SAITM) in Malabe.
Government Medical Officers' Association (GMOA) Secretary Dr. Haritha Aluthge told a media briefing that government doctors including ayurvedic doctors, dental and veterinary surgeons stopped work from 8.00 a.m. today and would continue the work stoppage till 8.00 a.m. tomorrow.
"We have successfully launched the 24-hour strike today in hospitals countrywide. The main motive behind these strikes is to get a permanent and reasonable solution to the SAITM issue," he added.
However, he said emergency treatment at all the hospitals was carried out uninterrupted.
Meanwhile, Ceylon Teachers' Union (CTU) General Secretary Joseph Stalin told the Daily Mirror that about 60 per cent of teachers at state schools kept away by applying sick leave.
"The strike action against the SAITM launched by twelve unions attached to education sector was a success. Around 70 per cent of teachers from remote areas and 50 per cent of teachers from urban areas have applied for sick leave today," he added.
He said they had launched this strike in protest of SAITM as well as against the privatization of the education in the country.
However, speaking to the Daily Mirror, Education Ministry Media Secretary Kalpa Gunaratne said there was no effect on the educational activities at schools today though several teachers' union had claimed that they were on sick leave.
Meanwhile, thousands of patients who called over today at government hospitals in several areas including Matale, Polonnaruwa , Anuradhapura, Kandy, Monaragala and almost all hospitals in the Nuwara Eliya district seeking treatment returned in disappointment due to the strike against the SAITM.
The patients who sought OPD treatments and those expected to attend clinics scheduled for today were the worst affected.
Secretary of the GMOA Polonnaruwa branch Dr. G.D.P Bandara said the strike in the Polonnaruwa district was a success. He said more than 5,000 patients who were scheduled to attend clinics and those who sought OPD treatments at the Polonnaruwa hospital had to go back in disappointment. He said more than 350 doctors in the district had joined the strike.
Patients who called over at the Anuradhapura district from remote areas early today were waiting at the hospital for long hours until the time of buses to return. Hundreds of disabled patients were among them. Several others were waiting at the hospital in the hope of the doctors calling off the strike and returning to work in the afternoon.
Deputy Director of the hospital Dr. Dulan Amaraweera said the patients in the OPD were the worst affected. He said the treatment of in-house patients, urgent surgical operations, treatment of cancer, and kidney patients were going on uninterrupted. Similar reports had been received from other areas as well. (Kalathma Jayawardhane)
(Additional reporting by K.G.Karunaratne, M.W.Somaratne, Atula Bandara, L.B.Senaratne, Sumanasiri Gunatilleka and Sudath Hewa and Kusal Chamath)