---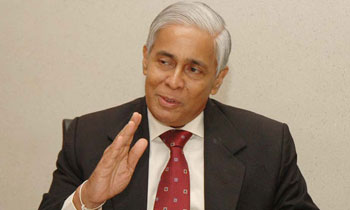 Former Chief Justice Sarath N. Silva today filed fundamental rights violation petition challenging the enactment of Provincial Council Elections Amendment Bill.
He takes Attorney General, the Speaker as well as the Chairman and members of the Elections Commission to target charging that at the Committee Stage all the operative Clauses of the published Bill and passed at the Second Reading are deleted and entirely new set of provisions that purport to be a replacement of the gamut of the Principal Enactment is introduced.
He also indicts the Attorney General has purported to examine the Constitutionality of these provisions smuggled in behind the back of the sovereign People amounting to an act of deception.
He alleges that the Attorney General conveniently washes his hands off from the proceedings at the Committee Stage and passes its responsibility to the Speaker who presided as the Chairman of the Committee.
He incriminates the Speaker of the Parliament that the Bill published in the gazette, placed on Order Paper of the Parliament and passed by Parliament at the Second Reading was mutilated by the deletion of all the operative Clauses at Committee Stage and that copious additions being substantial amendments to the Principal Enactment.
He contends that these amendments should have been published as a new Bill in compliance with Article 78(1) of the Constitution to notify the People being the repositories of legislative power as to its content to enable any person to challenge the Constitutionality of the Bill.
He maintains that any certification by the Speaker in respect of the provisions smuggled in at Committee Stage is ultra vires and Ab initio void. And amounts to an abdication of the executive duty imposed on him to function as an effective check on the exercise of legislative power by Parliament and constitutes an infringement /imminent infringement of the fundamental rights guaranteed to the people including the right to protection of law.
He accuses the Chairman of the Election Commission that any failure on the part of the Election Commission to hold any election promptly as and when it is due is a denial of the franchise which constitutes the sovereignty of the people.
He also accuses the Chairman and the members of the Election Commission that it has the dubious record of not holding any election from its inception.
He faults at the Election Commission that wide ranging amendments were sought to be made to the Provincial Councils Elections Act of 1988 changing the entire scheme of elections to create a confusion in respect of the applicable law relating to Provincial Council Elections and thereby provide a handle to the Election Commission which has so far worked hand in glove with the government to postpone elections to Local Authorities. (S.S.Selvanayagam)
Video by Courts Prasanna