---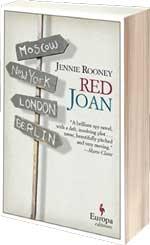 Red Joan
by Jennie Rooney
Inspired by the true story of Melita Norwood, unmasked as the KGB's longest-serving British spy in 1999, at age eighty-seven, Red Joan centres on the deeply conflicted life of a young physicist during the Second World War. Talented and impressionable, Cambridge undergraduate Joan Stanley befriends the worldly Sonya, whose daring history is at odds with Joan's provincial upbringing. Joan also feels a growing attraction toward Leo, Sonya's mysterious and charismatic cousin. Sonya and Leo, known communist sympathisers with ties to Russia and Germany, interpret wartime loyalty in ways Joan can only begin to fathom. As nations throughout the continent fall to fascism, Joan is enlisted into an urgent project that will change the course of the war―and the world―forever. Risking both career and conscience, leaking information to the Soviets while struggling to maintain her own semblance of morality, Joan is caught at a crossroads in which all paths lead to the same endgame: the deployment of the atomic bomb. Life during wartime, however, is often ambiguous, and when―decades later―MI5 agents appear at her doorstep, Joan must reaffirm the cost of the choices she made and face the cold truth: our deepest secrets have a way of dragging down those we love most.
Women Talking
by Miriam Toews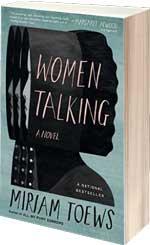 One evening, eight Mennonite women climb into a hayloft to conduct a secret meeting. For the past two years, each of these women, and more than a hundred other girls in their colony, have been repeatedly violated in the night by demons coming to punish them for their sins. Now that the women have learned they were in fact drugged and attacked by a group of men from their own community, they are determined to protect themselves and their daughters from future harm. While the men of the colony are off in the city, attempting to raise enough money to bail out the rapists and bring them home, these women—all illiterate, without any knowledge of the world outside their community and unable even to speak the language of the country they live in—have very little time to make a choice: Should they stay in the only world they've ever known or should they dare to escape? Based on real events and told through the "minutes" of the women's all-female symposium, Toews's masterful novel uses wry, politically engaged humour to relate this tale of women claiming their own power to decide.
White Houses
by Amy Bloom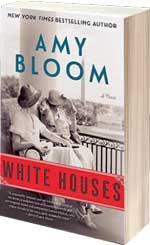 Lorena Hickok meets Eleanor Roosevelt in 1932 while reporting on Franklin Roosevelt's first presidential campaign. Having grown up worse than poor in South Dakota and reinvented herself as the most prominent woman reporter in America, "Hick," as she's known to her friends and admirers, is not quite instantly charmed by the idealistic, patrician Eleanor. But then, as her connection with the future first lady deepens into intimacy, what begins as a powerful passion matures into a lasting love and a life that Hick never expected to have. She moves into the White House, where her status as "first friend" is an open secret, as are FDR's own lovers. After she takes a job in the Roosevelt administration, promoting and protecting both Roosevelts, she comes to know Franklin not only as a great president but as a complicated rival and an irresistible friend, capable of changing lives even after his death. Through it all, even as Hick's bond with Eleanor is tested by forces both extraordinary and common, and as she grows as a woman and a writer, she never loses sight of the love of her life.
From Washington, D.C. to Hyde Park, from a little white house on Long Island to an apartment on Manhattan's Washington Square, Amy Bloom's new novel moves elegantly through fascinating places and times, written in compelling prose and with emotional depth, wit, and acuity.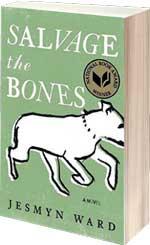 Salvage the Bones
by Jesmyn Ward
A hurricane is building over the Gulf of Mexico, threatening the coastal town of Bois Sauvage, Mississippi, and Esch's father is growing concerned. A hard drinker, largely absent, he doesn't show concern for much else. Esch and her three brothers are stocking food, but there isn't much to save. Lately, Esch can't keep down what food she gets; she's fourteen and pregnant. Her brother Skeetah is sneaking scraps for his prized pitbull's new litter, dying one by one in the dirt. Meanwhile, brothers Randall and Junior try to stake their claim in a family long on child's play and short on parenting. As the twelve days that make up the novel's framework yield to their dramatic conclusion, this unforgettable family--motherless children sacrificing for one another as they can, protecting and nurturing where love is scarce--pulls itself up to face another day. A big-hearted novel about familial love and community against all odds, and a wrenching look at the lonesome, brutal, and restrictive realities of rural poverty, Salvage the Bones is muscled with poetry, revelatory, and real.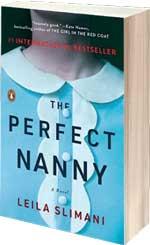 The Perfect Nanny: A Novel
by Leïla Slimani
When Myriam, a French-Moroccan lawyer, decides to return to work after having children, she and her husband look for the perfect nanny for their two young children. They never dreamed they would find Louise: a quiet, polite, devoted woman who sings to the children, cleans the family's chic apartment in Paris's upscale tenth arrondissement, stays late without complaint, and hosts enviable kiddie parties. But as the couple and the nanny become more dependent on one another, jealousy, resentment, and suspicions mount, shattering the idyllic tableau.
Room
by Emma Donoghue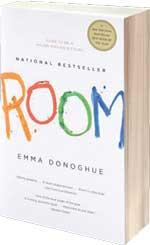 Told in the inventive, funny, and poignant voice of Jack, Room is a celebration of resilience—and a powerful story of a mother and son whose love lets them survive the impossible. To five-year-old Jack, Room is the entire world. It is where he was born and grew up; it's where he lives with his Ma as they learn and read and eat and sleep and play. At night, his Ma shuts him safely in the wardrobe, where he is meant to be asleep when Old Nick visits. Room is home to Jack, but to Ma, it is the prison where Old Nick has held her captive for seven years. Through determination, ingenuity, and fierce motherly love, Ma has created a life for Jack. But she knows it's not enough ... not for her or for him. She devises a bold escape plan, one that relies on her young son's bravery and a lot of luck. What she does not realise is just how unprepared she is for the plan to actually work. Told entirely in the language of the energetic, pragmatic five-year-old Jack, Room is a celebration of resilience and the limitless bond between parent and child, a brilliantly executed novel about what it means to journey from one world to another.
Source-Internet