---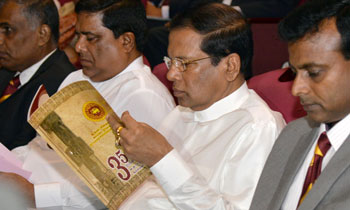 President Maithripala Sirisena said the education authorities had informed him that 10% to 12% of the 350,000 teacher population in the national education system did not have the ability or experience to teach a single subject or even to train students at least in extracurricular activities.
He said the government incurred a massive amount of funds for free health, free education, subsidies and other welfare facilities and the time was right to review these services to make them more people-oriented.
The President said this at the 35th Annual General Meeting of the of the Sri Lanka Administrative Service Association (SLASA) at the 'Nelum Pokuna' Performing Arts Theater yesterday.
"I had a long discussion with education authorities yesterday to sort out problems in the national education system. These officials told me that there are 4.2 million people and 350,000 teachers in the national education system. They also told me that 12% of the teachers do not have experience or skills to teach a single subject or train students in extracurricular activities. There is no doubt that this is going to be a pressing issue in the free education system," he said.
The President requested public officials not to be upset by the political theatrics enacted in Sri Lanka's body politic.
"The entire world at the moment is entangled with many problems. They may be of religious, social, economical or terrorism. We hear more often than not about incidents of gun violence in the US. Free use of guns is common in the US. We hear shooting on innocent people, school students and pedestrians dastardly killing of many innocent people and students. That is what US is where so-called five-star democracy is reigned," he said. "The public expect an efficient, clean and unblemished service from you and deliver them to the utmost satisfaction of the people is of paramount importance under whatever drawbacks you confront in the way."
The keynote address was delivered by Finance Ministry Secretary R.H.S. Samaratunga while the welcome address was delivered bySLASA President Ranjith Ariyaratne. (Sandun A Jayasekera)