---

This article discusses the judicial vision articulated by Judge C. G. Weeramantry in his time as a member of the International Court of Justice. It seeks to trace the development of his vision by examining his earlier writings, and the factors which shaped his approach to international law. It discusses some of the key elements of his vision: his sensitivity to Third World concerns, his attempts to create a universal international law which represents all the world's cultures, and his views of the judicial function and the international rule of law. The following are excerpts from the article.
Introduction
Christopher Gregory Weeramantry was elected to the International Court of Justice ('ICJ' or 'the Court') in November 1990; he left that office, after serving for one term on February 1, 2000. Judge Weeramantry was fortunate to have been a member of the Court at a time when it heard cases which raised issues of the first importance to international law - as exemplified by the Lockerbie Litigation,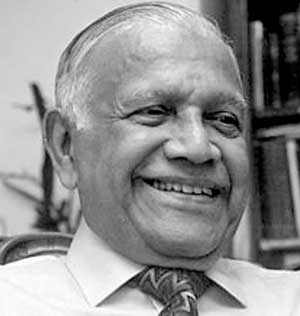 The Nuclear Weapons Advisory Opinions, and, most recently, the Yugoslavia Cases. The Dissenting and Separate Opinions that Judge Weeramantry produced in these and other cases, such as the East Timor case, the Gab Ikovo case and the second Nuclear Tests case have received widespread scholarly attention and comment. Furthermore, elected Vice-President by his colleagues in 1996, Judge Weeramantry served as Acting President to the Court in several immensely important decisions, including the Lockerbie case and NATO cases.

It is clear that although he served for only one term, he had a profound impact on the jurisprudence of the Court.

The purpose of this short article is not so much to outline the contributions that he has made to international law in the many fields on which he has written - a large task better left to scholars who have specialized expertise in the relevant areas, such as maritime boundary delimitations or international environmental law - but to try to identify and discuss in a preliminary sort of way, some of the overarching themes and concerns of Judge Weeramantry's work. My basic approach is to place his work in the International Court of Justice within the broader context of his legal, judicial, and scholarly career which has now spanned more than 50 years. In so doing, my attempt is to trace the evolution of a judicial vision which found its most elaborate expression in his work on the Court, but which developed over many decades in areas far removed from international law. The significance and appeal of his career on the bench lies in something more intangible than the immense learning and erudition he brought to bear on the issues he had to decide, as in the case of his analysis, for example, of the 'Necessary Parties' Principle in the East Timor case, for his discussion of the character of a 'counter claim. Rather, it is his deeply humanist vision of international law and justice and his fearless use of his position on the bench to articulate and realize it, that makes his work so compelling and his tenure on the Court so distinctive, and my attempt here is to sketch some of the main elements of that vision.

A JUDGE IN THE MAKING
When he was first appointed to the International Court of Justice in 1990, seasoned Court watchers had reason to be sceptical about the contribution that Judge Weeramantry could make to the jurisprudence of the Court. Simply put, he lacked many of the most important pre-requisites which serious candidates for the position were supposed to possess: First, he had come to international law relatively late in his life; it was not until the early 1950s that he began to write on topics of international law. Secondly, he was something of an outsider in the fairly closed world of international law - the academic, diplomatic, and UN circles from which candidates were supposed to emerge; he had not acted as legal adviser to his government, and had never even been nominated for the International Law Commission, a customary and significant stepping stone for any potential candidate for the Court.

Judge Weeramantry's interest in international law evolved over a long period of time. He had been admitted to the Bar in Sri Lanka at the age of 21 and had practised as a lawyer for 17 years. While practising as an advocate, he also taught contractual law at the Law College of Sri Lanka - an experience which led him to write a treatise on the law of contracts which is still regarded as a classic in the field, and which helped establish his reputation as a world authority on the Roman-Dutch law of contracts. After a brilliant career at the Bar, he was appointed to the Supreme Court of Sri Lanka, the youngest Judge in the history of that Court. He served on the Bench for five years and wrote several notable judgments on issues such as unjust enrichment and Muslim family law.
Following this, he accepted a position as Professor of Law at Monash University in Melbourne, Australia. The next book he wrote, The Law in Crisis: Bridges of Understanding was, as the title suggested, a broad examination of the very character of law: it is in this context, interestingly, that he discusses Grotius - not as an international lawyer, but as a jurist. This book was followed by a number of others which dealt with a very wide variety of subjects: Equality and Freedom: Some Third World Perspectives in 1976; Human Rights in Japan in 1979; Apartheid: the Closing Phases in 1980; and An Invitation to the Law in 1980. In 1983, he published The Slumbering Sentinels: Law and Human Rights in the Wake of Technology, which is among the first books to examine the relationship between scientific progress and human rights.

An examination of these works suggests some of the major themes that were beginning to preoccupy Judge Weeramantry at the time.

First, he was deeply concerned about what he recognized as a crisis undermining the law, arising from its failure to further the cause of justice and its unresponsiveness to the problems of ordinary people, which in turn led such people to disregard and fear the law.

Secondly, his shift to academia enabled him to examine many of the issues he had focused on as a lawyer and a judge in Sri Lanka from a broader perspective. The political, social, and economic problems afflicting Sri Lanka could be seen in the larger context of the problems confronting Third World countries undermined by political corruption, ethnic divisions, and power struggles within, even while attempting to detach themselves from the heritage of colonialism and to establish their economic and political independence in a somewhat hostile international system.

Thirdly, his research led him to believe that the great problems of our time - of war, poverty, the violation of human dignity and environmental degradation - could only be resolved at the international rather than purely local level. International Human Rights Law was the subject which attracted his most immediate attention, and this became the basis of his growing interest in the potential of international law.

Next, at a more technical level, his work as a scholar in contractual law, and the parallels between treaties and contracts, furthered his interest in international law, given that treaties were the clearest manifestation of international law; pacta sunt servanda. Indeed, it could be argued that international law depended more on contract than did domestic law.

Finally, Judge Weeramantry's career as a lawyer and as a Judge had familiarized him with the issue of administering and developing a legal system that would operate effectively in a pluralistic society. Sri Lanka's legal system involved a complex combination of English Common Law, the Roman-Dutch Law, the Thesawazhamai Code applicable to Jaffna, the Muslim Code, Kandyan Law, and the law of the low country Sinhalese - to name some of the complex local laws that members of the Sri Lankan judiciary had to recognize and apply.

He studied these systems in detail and wrote lengthy judgments on, for example, Muslim Family Law. The practice of law in Sri Lanka, and the work on the Bench effectively required him to become a comparative lawyer. Indeed, his book on contracts was subtitled "Being a Treatise on the Law of Contracts as Prevailing in Ceylon: And Involving a Comparative Study of the Roman-Dutch, English and Customary Laws Relating to Contracts". Two themes of enduring significance seem to have emerged from these experiences: First, he developed a particular interest in the parallels.

CONCLUSION
Judge Weeramantry came to international law late in his career. His interest in the subject did not develop out of an ambition to become a diplomat or a statesmen, or even an international jurist, and to ascend thereby to a more glamorous and elevated stage. Rather, his interest was based on the belief that only international law could address the major problems of war, poverty and the violation of human dignity. His work was informed by a growing realization that these issues were never purely national in character. He was not so much concerned with the distinctions between domestic law and international law, but rather with the broader concepts: the relationships between law and justice, and between law and society - be it a particular domestic society or the international community itself. For him, what makes international law distinct is its potential for establishing international justice and it is this view of international law which has shaped his jurisprudence.

It is surely paradoxical that this outsider, trained essentially as a domestic lawyer, has been so eloquent in asserting the completeness and authority of international law, and who has been so insistent in articulating an international law that sought to serve the needs of international society.
It is also paradoxical that it is a supposedly Third World jurist who has sought to create a truly universal international law - one that reflects the experiences and aspirations of the different peoples of the world instead of relying on philosophical ingenuity to suggest that Western doctrines and ideas are universal.

Yet, his achievement may suggest an advantage of being the outsider; it is the outsider who might be in the best position to reassess, with his different vision, an institution or a discipline.