---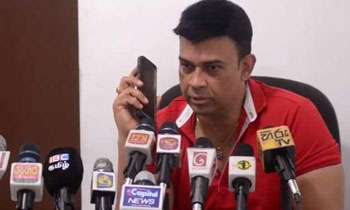 State Minister of Child Affairs Vijayakala Maheswaran said she had not made any statement with the intention of bringing the LTTE back to life and said that it was a slip of the tongue.
She expressed these views during a telephone conversation with the Social Empowerment Deputy Minister Ranjan Ramanayaka who called her during a media briefing in Colombo today.
During the conversation, she explained that former President Mahinda Rajapaksa had promised to give her Rs. one billion in cash and a Cabinet portfolio at the time of the previous regime.
The telephone conversation went as follows:
Ranjan Ramanayaka - What have you said about the LTTE?
Vijayakala - Who said?
Ranjan Ramanayaka - Why, you have said. It is in every newspaper.
Vijayakala - Ayoo, Who said that lie. What I said was that we did not have any problems those days.
Ranjan Ramanayaka - Was the schoolgirl raped by relatives?
Vijayakala - There was no connection between the brother and uncle. It was done by the drug users. No relations issues exist in the Northern Province as in South.
Ranjan Ramanayaka - You thanked him for the lands that were returned but the President had only visited Jaffna.
Vijayakala - He visited Jaffna only to build his party. We worked hard for his victory. Mahinda Rajapaksa told me that he will win the election with a majority of one million votes and promised me Rs.1 billion and a Cabinet minister post. But we did not support him.
Ranjan Ramanayaka - Was your husband murdered by the LTTE?
Vijayakala - No, what nonsense. All problems we have now because of Chandrika and Mahinda.
Ranjan Ramanayaka - Your solution to this problem was wrong.
Vijayakala - I did not say that we want to bring the LTTE back. We lived in peace in that era. Due to being excited I said it by mistake. No one will come back.
Ranjan Ramanayaka - Don't say that LTTE is coming back. Is it not good ok?
Vijayakala - No, no Ranjan don't take it seriously, This had been done by the media to defeat Ranil Wickremesinghe.
Ranjan Ramanayaka - Don't make such statements, it is not good for the government.
Vijayakala - No Ranjan, I did not say we want to bring the LTTE back. (Chaturanga Samarawickrama)