---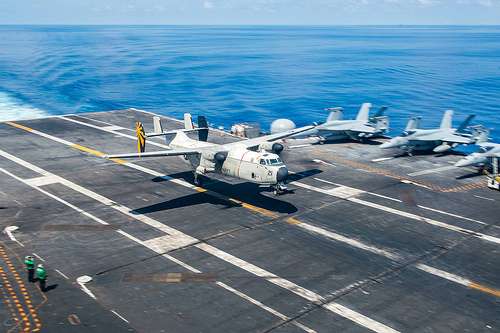 The aircraft carrier USS John C. Stennis received supplies as part of a temporary cargo transfer initiative in Sri Lanka, beginning January 24, the US Pacific Fleet said yesterday.
A C-2A Greyhound carrier onboard delivery aircraft from Fleet Logistics Support Squadron (VRC) 30 operated from Bandaranaike International Airport, Katunayake.
The C-2A received a variety of supplies transferred earlier in the week from a US Navy C-40A Clipper logistics aircraft and then flown back to John C. Stennis, which is outside Sri Lankan territorial waters.
Supplies included spare parts, tools, personal mail, paper goods, and other items.
Lieutenant Commander Brett Learner, officer in charge of VRC-30 said support services went well during the first stop in Sri Lanka in early December 2018.
"The opportunity to conduct a temporary cargo transfer in Colombo for a second time provides a resource in a strategic location in the Indian Ocean that we can leverage while in the area," he said.
The temporary cargo transfer initiative facilitates airstrips and short-term storage facilities to receive large-scale shipments to move out in various directions in smaller shipments, allowing ships to continue operating at sea by receiving the right material at the right place and time.
The initiative promotes Sri Lanka's growing role as a regional hub for logistics and commerce. The cargo transfer conducted in January contributed approximately Rs.25 million to the local economy, supporting local businesses.
No cargo, military equipment, or personnel associated with this initiative will remain in Sri Lanka after completion of the cargo transfers, the US said.