---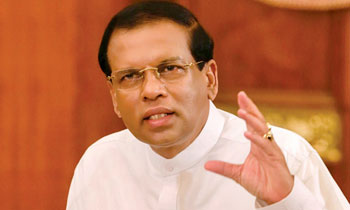 President Maithripala Sirisena said that there were times when he was not convinced with some decisions taken by the Constitutional Council regarding names sent for the appointments of top posts.
While stressing that he was not going to make any further comment on the matter before all the media cameras, as he did not wish to create a Constitutional clash the following morning.
The President made this remark while addressing the Annual National Meeting of Judicial Officers Association held at the Galadari Hotel on Sunday.
"Everybody knows the power of the President after the 19th Amendment of the Constitution. The Constitutional Council takes the final decisions about the promotions. I always tried my level best to get impartial decisions during my tenure in the last three years. I dedicated myself towards it. When some problems arose, I checked and clarified matters with the Attorney General. I got recommendations from the Chief Justice and the Judicial Services Commission. I did so to avoid any crisis situations. After getting these recommendations I sent the names to the Constitutional Council. There are times that I have not agreed with the constitutional council. Sometimes I agreed with them. I do not like to speak much about it. I think if there is an issue that hampers the promotion of an officer on disciplinary grounds, it is fair that such information is conveyed to me in writing before the recommendation of such names are made to me," the President said. (Ariyaratna Ranabahu)