---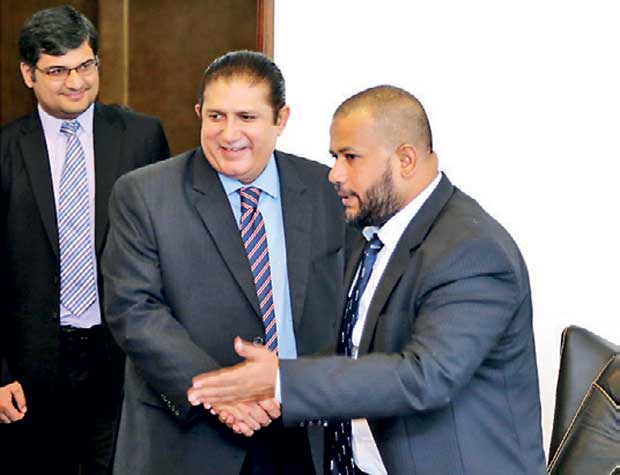 Industry and Commerce Minister meets Acting High Commissioner of Pakistan Dr. Sarfraz Ahmad Khan Sipra (centre) on June 22 for 'rice talks' at the ministry
The four-man Lankan team of officials that flew to Pakistan and Myanmar to select rice tranche, returned to Colombo yesterday.

It was reported that no less than 55000 MT rice has been made available to Sri Lanka immediately by both Pakistan and Myanmar.

Minister of Industry and Commerce Rishad Bathiudeen, whose team of officials took off on July 7 to Pakistan and Myanmar, praised the team's success. "After this successful tour, it is clear that there will be no more rice shortages in the domestic markets-or even any likelihood of it. Some elements in the market are trying to create an artificial shortage," Minister
Bathiudeen said.

According to an official who returned, Pakistan has agreed to supply 25000 MT immediately. No final price has been quoted yet but once the final price is agreed, will be shipped from Pakistan in early August. Pakistan is also ready to supply some more rice quantity by September.

Myanmar is ready to supply another 30000 MT immediately and its final price too, is yet to be agreed.
Previously on June 22, Minister Bathiudeen met Ambassador Designate of Thailand to Sri Lanka Chulamanee Chartsuwan, Ambassador of Indonesia to Sri Lanka Gusti Ngurah Ardiyasa and Acting High Commissioner of Pakistan Dr. Sarfraz Ahmad Khan Sipra at the Ministry of Industry and Commerce to call for government-to-government rice supplies to Sri Lanka. All the ambassadors present pledged immediate support to Sri Lanka's efforts to procure the needed rice tranche.