---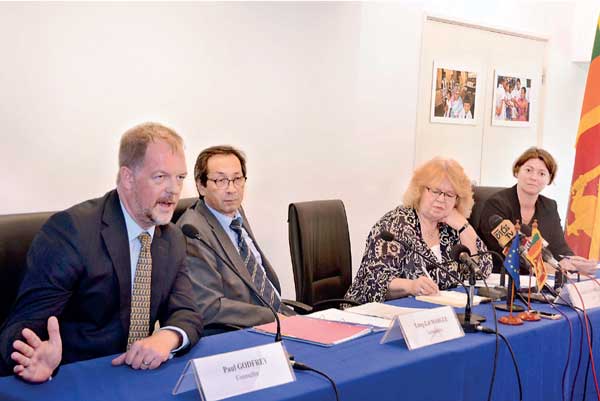 From left: European Delegation in Sri Lanka and Maldives Political, Trade and Communications Counsellor Paul Godfrey, EU Ambassador to Sri Lanka and Maldives Tung-Lai Margue, European Parliament Member Jean Lambert and European Delegation Administrator Kristin Arp
Pic by Pradeep Pathirana
By Chandeepa Wettasinghe
Sri Lanka could enjoy the preferential tariff regime of General System of Preferences Plus (GSP Plus) facility with the European Union until as late as 2023, according to the sentiments expressed by the European Delegation in Sri Lanka.

GSP Plus is only awarded to countries in the low and lower-middle income categories as classified by the World Bank, and an upgrade to an upper middle income country makes it ineligible for the GSP Plus facility, according to EU Regulation 978/2012.
"We're expecting Sri Lanka to reach that (upper middle income) by 2019," Political, Trade and Communications Counsellor, European Delegation in Sri Lanka and Maldives, Paul Godfrey, told Mirror Business. He also noted that Sri Lanka will have to remain in the upper middle income segment for 3 years, plus another year where the EU will observe the situation, before the country becomes ineligible for
GSP Plus.
According to the Central Bank, Sri Lanka's current per capita gross national income is US$ 3836, and the threshold for 2016 to be classified as an upper middle income country was
US$ 4036.
The World Bank is expecting Sri Lanka to grow at 4.8 percent this year, and just over 5 percent
next year.
"But the threshold also goes up each year," Godfrey said.
However, the threshold also declines, as it had in 2016, and the threshold saw a continuous decline over several years in the early 2000s. Meanwhile, in response to a question whether Sri Lanka could compete with countries who can afford to produce goods cheaper, and have made inroads with their access to GSP Plus for the past 6 years, Godfrey noted that Sri Lanka depending on its leading export again would not be a good idea.
"Going back to the EU with just apparel would be a mistake. Sri Lanka has to diversify. Now," he said.
The Sri Lankan government is expecting windfall of US$ 1.9 billion annually with the resumption of GSP Plus, mainly through apparel exports.
Sri Lanka could expect a decision on whether it is reinstated with GSP Plus privileges between January 13 and May 12, depending on how long the EU parliament decides to debate and put the issue to a vote.
The EU delegation currently in the country was very diplomatic in providing answers, saying that the progress so far has been positive, but that much more needs to be achieved, especially related to the office of the missing persons, devolving powers to provinces, child marriage laws, gender equality, etc.

"A number of things are moving here in a positive direction, but it's only the beginning of change. There needs to be a continuation and a deepening of what we have seen," European Parliament Member Jean Lambert said.