---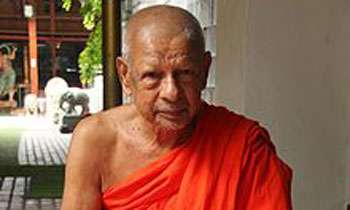 A religious ceremony to invoke good health on Ven. Dr. Galboda Gnanissara Thera, popularly known as 'Podi Hamuduruwo' of the Gangaramaya Temple, will be held at 4.00 pm today at the temple premises in Colombo.
Some 500 Bhikkus will partake in the 'Pinkama' ceremony for the Thera, who is currently hospitalized. The Bhikkus will move in a procession from Seemamalakaya to Gangaramaya at 5.00 pm, followed by an 'Ashirvada Pooja'.
An offering of uniforms will also be made to students of Sri Jinarathana Technical School and the Sri Sumangala Damma School, which are affiliated to the temple.
President Maithripala Sirisena, Premier Ranil Wickremesinghe, former president Mahinda Rajapaksa and several ministers and MPs are expected to be present at the ceremony, which has been organized by the Gangaramaya Dayaka Sabha, Kalutara Bodhi Trust Board and the World Peace Organization.
Meanwhile, traditional New Year customs, from midnight December 31 to January 1 afternoon, will take place at the temple, as usual, Gangaramaya Viharavasi, Ven. Palatuwe Jinarathana Thera said.