---
Open source technologies has been recognized as an enabler for a variety of problems , providing accessible technologies to a number of services as well as for mass collaboration in sharing knowledge with others to create new resources and opportunities.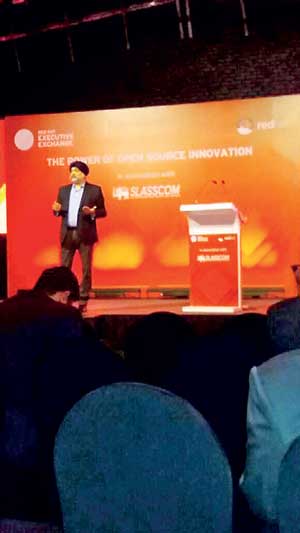 Red Hat, the world's leading provider of open source solutions, recently launched their open source innovations to the Sri Lankan market in collaboration with SLASSCOM as their industry partner. The launch took place at the Park Street Mews in Colombo, attended by CIO's and CXO's of many leading blue chip and start-up companies.
Expertise in open source: Amaarjeeth Singh Manchanda, Director Pre-Sales in his opening statement explained their transition into open source technologies and affirmed that working in the open source community is 'part of the DNA of the company. He said, "We believe open source technology represents the best of what the future holds and is a way of emphasizing transparency, collaboration and innovation by working together and openly sharing ideas to more effectively solve business problems and reveal new possibilities."
He further stated "New workloads are going to enterprise technologies with open source being at the core because this is where innovation is coming from and is what developers will want to consume. Another benefit of open source products are that they can power companies across the board, from home businesses, SME's, to Fortune 500 enterprise firms. In the future most infrastructure is also going to be on open source.'
Embracing digital disruption: Amaarjeeth also pointed out that "We're at a critical time in the digital economy, where it is integrated into every aspect of today's companies. As digital technologies continue to transform the economy, it is important for organizations to set a digital strategy, shift organizational structures and remove the barriers that are keeping from maximizing the potential and positive impact of these new digital technologies. Doing this will give your company a competitive advantage and help balance innovation and optimization, gain better efficiencies and increase agility".
Helping business and governments gain competitive edge: Adding to these comments Neeraj Bhatia Director, Commercial and Partner Sales for India and SAARC Region outlined Red Hat's role in open source innovation. "Red Hat has been involved in open source since its first forays into the market. Today we are helping a range of businesses in many industries as well as governments to develop applications and infrastructure for their most complex needs.
These solutions are backed by a structured strategic roadmap that paves the way for our clients explore and put in place the best ways to meet business goals. Our teams have the proven skill, knowledge and experience at helping these organizations realize high performance through open source implementations and have been instrumental in helping businesses and governments develop open source-based solutions for their most complex, enterprise-class needs."
In conclusion Sukantha Basak, Manager, Solutions Architects gave an insight into the complete portfolio of open source solutions offered by Red Hat .
SLASSCOM as the industry partner for this initiative joins hands with Red Hat to help them foster and deliver quality open source services and solutions for the betterment of the organizations in Sri Lanka and to gear them to face future business challenges
with confidence.