---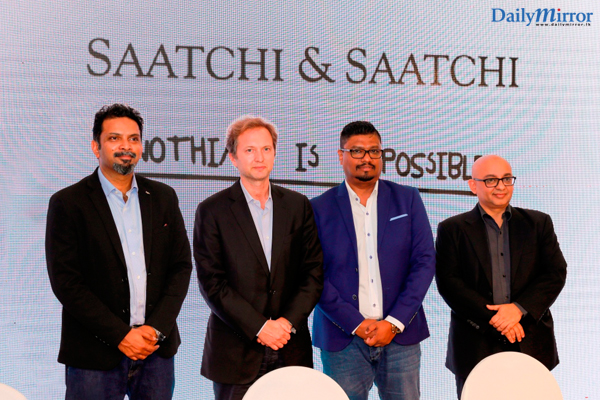 Anil S Nair - CEO & Managing Partner L&K Saatchi & Saatchi India, Loris Nold - Global COO Publicis Communication Worldwide, Chalaka Gajabahu – CEO Saatchi & Saatchi Sri Lanka and Saurabh Varma – CEO Publicis Communication South Asia
Publicis Groupe, the world's third largest communications company recently extended its presence to Sri Lanka by launching Saatchi & Saatchi, a full service, integrated communications company that operates on the philosophy that "Nothing is Impossible". With a new management team at its helm, Saatchi & Saatchi will operate under the Publicis Groupe umbrella and will have access to the best in class expertise such as Arc Worldwide, Publicis, Starcom and MSL which are already operational in the country.
The agency was given an auspicious beginning with the presence of Loris Nold – Global COO,Publicis Communications Worldwide. Saurabh Varma – CEO, Publicis Communications, South Asia was also in attendance together with Anil S. Nair – CEO & Managing Partner, L&K Saatchi & Saatchi, India.
Saatchi & Saatchi will offer its global clientele as well as clients from Sri Lanka a full spectrum of creative communications services. Saatchi & Saatchi is known to be the creator of some of the world's most famous campaigns such as the 'Face' ad for British Airways and 'Life Flows Better' for Visa. Saatchi & Saatchi is recognized around the world for delivering bold, memorable and effective campaigns that merge technology and innovation with creativity, to provide solutions that make an impact in the market-place.
Commenting on the establishment of a fully-fledged operation of Saatchi & Saatchi in Sri Lanka, Magnus Djaba - Global President, CEO, Saatchi & Saatchi Fallon UK Group said: "Sri Lanka is promising to become an important market in the region. Therefore, it's important that the Publicis Groupe strengthens its portfolio in the island. This will enable us to deliver greater variety, choice and value built on the diverse philosophies of each brand. We can now continue to offer our globalclientele and the Sri Lankan marketing fraternity,a combination of strong local insights and access to industry-best global and regional resources and teams, who will be able to deliver world-class marketing communications to empower the brands in our portfolio."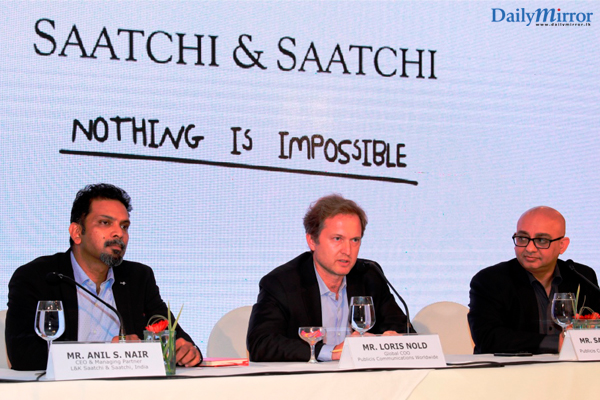 Anil S Nair - CEO & Managing Partner L&K Saatchi & Saatchi India, Loris Nold - Global COO Publicis Communication Worldwide, Saurabh Varma – CEO, Publicis Communication South Asia
Speaking about the establishment of the Saatchi and Saatchi operations in Sri Lanka, Saurabh Varma, CEO – Publicis Communications, South Asia said: "We are truly proud to add Saatchi & Saatchi, one of the most revered global communications agencies in the world, and another key member of Publicis Groupe to our portfolio. The establishment of Saatchi and Saatchi will not only strengthen the Publicis Groupe'sfoot print in Sri Lanka, it will enable us to add value to marketing communications industry in Sri Lanka. We will be able to strategically expand, and offer best-in-class creative solutions to even more clients and brands in the country."
Also sharing his thoughts, Chalaka Gajabahu – CEO, Saatchi & Saatchi Sri Lanka said: "I look forward to leading Saatchi & Saatchito be a powerful brand in Sri Lanka, with new structures, protocols and the dynamic new team we have put in place. We will be working alongside our colleagues from the Publicis Groupe brands present in Sri Lanka to deliver seamless, integrated solutions that will support the business growth of our clients as well as deliver best in class branding and communication ideas for all the brands under our purview."
Saatchi & Saatchi was launched in 1970. What commenced as a start-up advertising agency, has evolved into a global creative communications company that is still on a strong growth trajectory. The agency is in the business of getting people to fall in love with their clients' products and services and delivers creative ideas across all media and disciplines. The agency believes passionately in the power that ideas have to differentiate, fuel motivation, and change the world for the better. Saatchi & Saatchi believes that "Anything is possible".