---
By Shabiya Ali Ahlam
A research study yesterday revealed that the proposed ban of chrysotile, a key element used to manufacture roofing sheets, popularly known as asbestos, would have a number of negative socioeconomic consequences to Sri Lanka.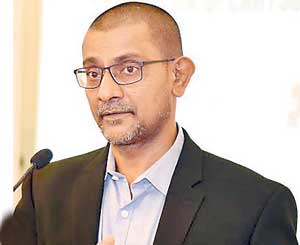 An extensive study carried out by Research Intelligence Unit (RIU), a real estate market consultancy, showed that the proposed ban that would come into full effect by 2024 would prove disastrous for the country's roofing sheet manufacturers and the construction sector as a whole. "The direct impact of a potential ban on chrysotile in Sri Lanka is very significant. The annual value of new roofing material is estimated around US $ 146.4 million (per annum).
In addition, there is an estimated US $ 55 – 110 million worth capital investment that could be rendered unproductive. This could lead to a loss of millions of dollars to the country," RIU Founding CEO Roshan Madawela told reporters in Colombo yesterday.
Analysis by the RIU shows that a possible ban would result in Rs.14.7 billion loss of income and profits to the roofing industry per annum, a Rs.17.9 billion loss of income earned via direct and indirect employment, and a loss of Rs. 858 million to Customs and Inland Revenue Department.
With there being no substitute to roofing sheets containing chrysotile, it was pointed out that investment required to produce alternatives would amount to about Rs.8 – 16 billion.
The household survey of the research that was carried out in four districts is said to have confirmed that the impact will be somewhere between severe and damaging under scenarios where homes would not be able to replace their roofing sheets and upgrade from iron sheets due to the affordability factor.
It was found that chrysotile roofing is the preferred choice of material in Sri Lanka, especially for the low and mid-income groups. "There is a serious mismatch between preferences on alternatives and their budgets for more expensive materials. The product that people would want to switch to and their ability to finance the switch are not compatible. Therefore, as a result, many people may remain in dwellings with iron sheets," the report stated. It was pointed out that a policy that seeks to ban asbestos may find that it contradicts the National Housing policy which seeks to extend affordable and decent shelter to some 100,000 each year. With clay tiles expected to be at the frontline of those products that will be considered by home owners and developers as an alternative, any significant increase in the production of clay tiles is not likely to be sustainable given that large portions of earth need to be excavated for this purpose, the report stressed.
"This activity is known to have serious negative impacts on the environment, including landslides, a phenomenon that Sri Lanka is now experiencing at increasing frequency," the RIU warned. The report cautioned that if the government would go on to categorize chrysotile roofing as a 'dangerous' material, the it should come up with policies for the safe removal and disposal of the same.
Currently, there are no provisions made by the Central Environment Authority (CEA) for the disposal of chrysotile.
Using the Australian model for removal and disposal where costs were discounted accordingly to represent much lower wage rates in Sri Lanka, findings showed that the cost of removal, transportation and disposal of all current inventories would cost the government an estimated Rs.1,653 billion.
From an international perspective, not all countries have introduced legislation regarding the use, control and import of asbestos. Developing nations such as China, India and Russia have not yet yielded to pressure from the industrialized world's attempt to reduce the amount of exposure to asbestos and are still using Chrysotile for roofing sheets.
Instead, nations including Thailand, Vietnam, and India have focused on strengthening the safe use policies for materials such as chrysotile to avert any risk of major economic loss to individuals as well as the country as a whole.
The RIU stressed that to-date there are no medical records or statistics showing harm from chrysotile containing roofing despite such being used for more than six decades in Sri Lanka.