---


Why the despicable lot needs to be included in discussion

His privatising of public transport had no clear vision
First ever strike called for August 15 last by private bus drivers' union did not make much of an impact on daily commuters.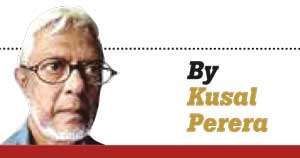 They could not keep buses off the road as bus owners do, when on protest demanding an increase in bus fares.
Yet, these bus drivers were condemned as Errant Drivers who should be severely punished and disciplined.
The outburst against them made all other drivers, saintly users of public roads. There are nearly 5,000 private buses plying on the roads. The bus drivers' union claim that there are 1.8 million vans (?) transporting office staff and another 4,300 plus vans operating as school service.
If these numbers are right, the total employed as drivers in public commuter sector excluding the SLTB would count around one million.
That's no small number in our economy to be blamed and ignored.
Both, office staff transport and school service vans are direct results of a very poor and badly managed or rather, never managed public commuter service.
The major reason for 4,300 school service vans is the eroding education system that creates, vast disparities between much fancied and heavily patronised national schools in major cities like Colombo, with rampant corruption for Grade I admission and other less privileged provincial schools.
Public road transport was the total responsibility of the State-owned CTB until 1978. It was accepted as a service the State should bear responsibility.
The CTB at its peak with over 7,000 buses and around 50,000 or more employees, has its own repair and maintenance shops and fuel sheds, provided a regular bus service almost 24 hours a day, for a very minimal fare, though without much comfort.
It was efficient to the extent; people could generally depend on their fixed timetables. This needed more State investment, restructuring of fares and better planning to provide an improved, efficient, comfortable and an affordable service. Instead, the then President J.R. Jayewardene opened up public commuter transport for private investment, making public transport a commodity in his fashionably 'Liberalised Market Economy.'
His privatising of public transport had no clear vision. Left as an unorganised private sector, this unplanned privatisation allowed for large-scale self-employment opportunities creating an informal sector that should have been organised as a formal economic sector.
With no planning to draw in large-scale private investment that could own and maintain large fleets of buses with modern management capability, private bus sector mushroomed with small time investment.
It lacked investments that could afford to train and employ staff with decent wages, EPF and ETF contributions and overtime payment when necessary.
It could not provide a better competitive service to what was offered by the CTB then.
What President Jayewardene allowed in privatising public commuter transport was for small-time local businessmen who could only manage to lease a vehicle, who would otherwise have gone into groceries, communication centres, local delivery services and the like.
With heavy lease payments on their shoulders, these small-time bus owners, who came to make a profit, are compelled to have their buses on roads from early morning till late evening. They pull their buses off the roads when crowds deplete at late evenings and incomes deplete too, leaving late commuters stranded.
Very much different to CTB employees who were on an eight-hour shift duty with overtime pay for extra hours, these private bus drivers and conductors had to start early morning and continue till whatever time in the night they could make money.
Except for long distance buses, they are on roads for well over 14 hours a day at a stretch. They don't have an eight hour working day, no lunch hour break, no overtime payment and no public holidays too.
In fact, they are not in wage employment. They have no job security and are not self-employed either.
Bus owners have over the years worked out a scheme of their own, where they give out buses to a driver or a conductor on a fixed daily rent without any contract or written agreement.
The driver and the conductor are promised a share of what they earn during the 12 to 14 hours or more, they keep the bus running.
On our heavily jammed roads, it is a ruthless competition for income that makes this a hard and a rough life to survive.
---
Increasing of fines will not discipline road users

Private bus drivers' issues should be taken seriously

It is all about people wanting to get to their destinations
---
It is, therefore, no surprise that the service provided by these private bus employees is often rusty and crude. It is in such a sorry context that they are labelled as errant drivers and held responsible for road accidents.
In Sri Lanka, road accidents account for around 3,000 deaths annually. During the first six months of 2017, on Police records, lorry drivers accounted for 182 fatal accidents, while private buses were responsible for 85 and the SLTB for 25 fatal accidents.
During the same period this year, lorries accounted for 155 fatal accidents while private buses for 103 and SLTB for 31 fatal accidents.
These numbers don't pin a major blame on private bus drivers. Road rule violations including speeding are also not by private bus drivers alone. There are large unaccounted-for numbers of road rule violations committed daily by others who often get away with unofficial payments.
It is all about people wanting to get to their destinations on time.
It is about people compelled to have their own individual mode of transport to get from one place to another, where public commuter transport has failed with no Government giving it serious thought.
This gives way to a very lucrative vehicle import industry that now dictates terms to every Government and no doubt finance political parties and their election campaigns.
With a mad scramble to have one's own vehicle, jam-packed roads in major cities, especially in Colombo and its peripherals, keep the traffic Police overburdened and stressed out in organising traffic to help vehicles move at a comfortable pace.
The morning drive and evening drive time on FM radio stations and the advertising companies promoting commercials and jingles for captive listeners in traffic jams, is more than enough proof of a miserably ignored public commuter service.
We, therefore, have to be reasonably honest and sincere in how we react and respond to this private bus drivers' strike, though ineffective it was.
It is only the demand for reduced traffic fines that have been picked up for easy blame. They had many other demands that were reasonable and need public discussion.
The private bus drivers' union highlighted a total lack of restrooms and toilet facilities for them in at least the main bus stands and lack of shift duty, which certainly would add to a satisfactory service. The total absence of a proper regulatory mechanism for private bus operation highlighted, has led to a violation of Wages Board Rules and Regulations applicable for transport service and bus owners playing the role of absent employer avoid contributing to EPF, ETF and other benefits due to private sector employees.
The National Transport Commission Act No.37 of 1991 amended thrice thereafter is one piece of law that is conveniently ignored by the State. The provincial Road Passenger Transport Authorities are dysfunctional for all necessary monitoring and regulation and is alleged to be corrupt as well.
On their demand for reduced fines, private bus drivers' union has clearly said they were not against traffic fines for violation of road rules. They stress on the need to have improved roadways with pavements for pedestrians and efficient traffic management using CCTV cameras for charge-sheeting actual offenders.
Let's not dispute the fact that charge-sheeting for road offences are not always right and are used as an alternate income source by law enforcers. It is with that and the fact that they have no employer responsibility for employment that makes them demand for lesser fines.
It is a fact, that increasing of fines will not discipline road users, as long as heavy competition to get to one's destination without wasting time in roadblocks and stagnant traffic remains an unavoidable daily hassle on city roads.
Leaving aside their demand for lesser fines, other issues raised by these private bus drivers are all valid in organising a much needed, better commuter bus service.
They would together make private bus service a more humane public service with drivers and conductors treated with decency in their work. It is absurd to demand a decent service from those who are not treated decently as employees.
It is, therefore, time to take up these issues within a discourse on how an efficient, comfortable, affordable and a dependable public commuter service should be planned and organised. That remains the only answer to the ever-increasing unmoving traffic jams on our roads. Let us, therefore, begin this discourse with the private bus drivers' strike, instead of having an easy way out blaming them and, in the process, refusing to find answers to all the chaos on roads.