---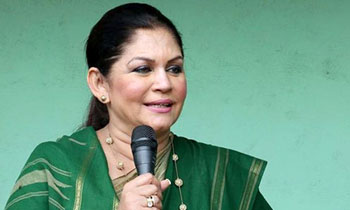 Rosy Senanayake, who has become the first Mayoress of Colombo, yesterday said she is prepared to face any challenge that would come her way.
"People talk about challenges when women were coming in for politics at this election but women also can take up any challenge a man can face, " Ms. Senanayake told Daily Mirror last afternoon.
Accordingly, Ms. Senanayake said she would take up the challenge of eradicating corruption and making Colombo a smart city.
She said she would work with all members of the council.
She further said she would start up with a three month delivery programme and then a six month programme and a one year programme.
"This is not going to be a one like the 100 day programme as it will be a serious programme three moths to one year, " she exclaimed.
She also said her ward is a predominantly Sinhalese one but thanked all voters belonging to all ethnic and religious groups.
The Colombo Municipal Council will have the highest number of women members in the history with the ruling party having nine women. (Yohan Perera)