---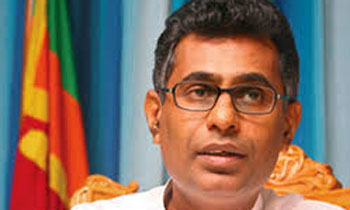 President Maithripala Sirisena will declare the 269 hectares of reclaimed land at Port City as a territory of Sri Lanka in March after the necessary legal framework is passed in Parliament, Megapolis and Western Development Minister Patali Champika Ranawaka said yesterday.
Minister Ranawaka added that after declaring Port City a landmass constitutionally and legally belonging to Sri Lanka, it will be handed over to the National Housing Development Authority (NHDA) and in turn the NHDA will lease a part of the Port City to develop it as a Financial City to China Harbour Engineering Company Ltd. (CHECL) on a 99 year lease.
Addressing a news briefing at his office, Minister Ranawaka said the CHECL will launch a project in June to construct three high rises that contain 60 floors each at a cost of US$ 1 billion (Rs. 150 billion).
The special legal and administrative package that would govern financial, administrative, tax, rents and lease arrangements is being drafted by the Attorney General's Department with the help of the Prime Minister's office and the draft legislation will be presented to Parliament in April. As such, the Port City will not come under the purview of the Colombo Municipal Council, he said.
"Another US$ 800 is to be invested by CHECL to develop infrastructure at the Port City that will include a huge theme park for public use, an underground tunnel from Galle Face to Kollupitiya bordering the sea along the Marine Drive to ease traffic congestion on Galle Road, a light rail system from the Port City up to Katunayake are a part of the infrastructure development programme", Minister Ranawaka said.
He said organic soil made out of solid waste of Colombo will be used for land filling at the Port City and added Environment Impact Assessments (EIA) Feasibility Studies and tests for gavel, soil and pebble have also been done to ensure the strength of the ground and structures of Port City.
"The previous government had not done a single feasibility study or EIA relating to this major development project and therefore we had to start the project from a scratch," Minister Ranawaka said. (Sandun A Jayasekera)