---

Pathfinder Foundation Centre for Indo-Lanka Initiatives Director Admiral Dr. Jayanath Colombage delivered the keynote address titled 'Indo-Lanka Strategic Ties', at the Vision India Foundation (VIF) Policy Boot Camp in New Delhi.
The VIF is a modern nation-building movement undertaken by the educated youth in India. It was founded by faculty and alumni of various Indian Institutes of Technology
(IITs) in 2014.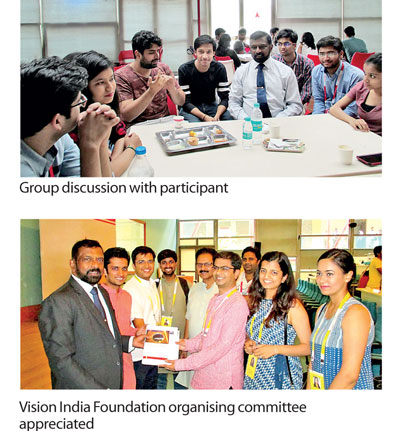 The VIF-IIT identify, mentor and prepare the brightest youth of India and provide them avenues of nation-building. Their mission is to bring systemic reforms in India, which align with the nation's aspirations and ethos. For this, they groom bright and passionate young minds for future leadership of the nation.
The VIF-IIT focus on bringing systemic, long-term reforms by working on public policy, governance and institutional frameworks of the nation. Since the establishment, they have worked with numerous government and non-government partners towards their mission.
The VIF-IIT have completed projects on e-governance, rural development, education, local governance in seven different states in India. They also conduct policy boot camps, fellowships and good governance 'yatra' and other programmes in nation-buildings.
The VIF-IIT was launched on November 6, 2014 at IIT New Delhi by Minister Railways Suresh Prabhu, noted policy advocate and academic Dr. R. Balasubramanian and IIT Delhi Professor Dr. Nomesh Boila.
Admiral Dr. Colombage spoke about historical, cultural, religious connectivity and commonalities between India and Sri Lanka, maritime connectivity, historical and present, fisheries dispute, ethnic conflict and role of India, Indo-Lanka military relations, political and economic relations and geostrategic situation in the region.
Admiral also highlighted the role played by Pathfinder Foundation Founder Milinda Moragoda in promoting connectivity between the two countries since the time of present prime minister's term as chief
minister of Gujarat.
Admiral provided an analytical narrative in relations between the two countries and suggested a road map to enhance connectivity and relations between India and Sri Lanka.