---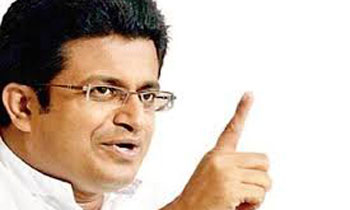 While claiming that the page 854 of final bond report had categorically articulated that the statement proclaimed by Prime Minister Ranil Wickremesinghe in parliament on March 17, 2105 that the former Governor Arjuna Mahendran did not intervene into the issuance of bonds, was untrue,
General Secretary of Pivithuru Hela Urumaya (PHU), MP Udaya Gammanpila said yesterday that PM should either resign from his office for misleading parliament or they would take the initiative to file a No Confidence Motion against the PM.
Addressing a news conference he said the mentioned incident was sufficient enough to file a No Confidence Motion against the PM.
Meanwhile, he said even though the Presidential Commission of Inquiry (PCoI) report which was submitted to President Maithripala Sirisena on January 3, consisted of 1,257 pages, the report submitted to parliament on Wednesday only had 1,154 pages.
President Sirisena must make a special announcement as to what happened to the rest of the [103] pages. At the same time, it was questionable as to why former Finance Minister Ravi Karunanayake was handed over a Commission Report before it was presented to Parliament.
"The said incident leads to a suspicion that the missing pages (103) have been removed out of the report in favour of the former Finance Minister who had a look at the report earlier. Therefore, we insist President Sirisena should deliver a statement with regard to the controversial incident and take pertinent steps with immediate effect," Gammanpila said.
Nevertheless, he said although Prime Minister Ranil Wickremesinghe had proclaimed that the appointment of former Governor Arjuna Mahendran was done in accordance with the consensus of the President and the government, the President himself and several other ministers had opposed to the appointment.
"Some crucial questions could have been raised at the bond commission when the Premier was summoned to give the evidences. But such crucial questions such as why Prime Minister Ranil Wickremesinghe took over the management of the Central Bank - which was under the purview of the Ministry of Finance, appointing Arjuna Mahendran as Governor of the Central Bank despite being aware that he was a citizen of Singapore and why he had been appointed despite the President had opposed to it etc., should have been raised when the Premier had appeared before the PCoI," Gammanpila said.
He said if those questions were raised, Prime Minister Ranil Wickremesinghe would have been found guilty of the bond scam. (Sheain Fernandopulle)