---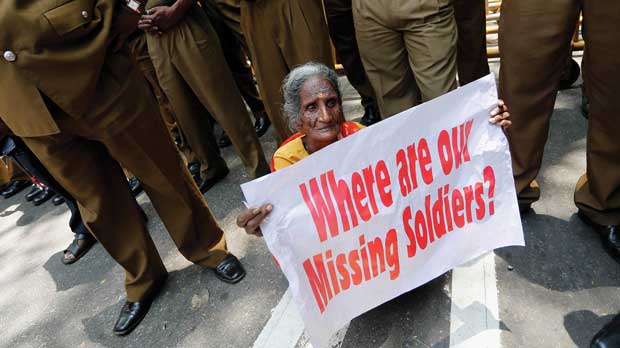 By D.B.S.Jeyaraj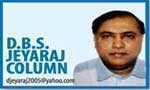 Let me begin on a very personal note. The first major emotional upheaval I underwent as a result of losing a very loved one, was when I lost my maternal grandfather in December 1968. I was 14 years old at that time. I was inordinately fond of him and he of me, his eldest grandchild.

My grandfather had been ailing for some time and his impending demise was expected. Both his children, their spouses and all his grandchildren were around his bed when my grandfather breathed his last.

We were living in Kollupitiya at that time and my grandfather passed away peacefully at our residence. The doctor came and certified his death there.

The undertakers took the body away, embalmed it and brought it back in a coffin for people to pay their respects. The funeral service was at our home. The burial was at Kanatte. A memorial service was held two months later in a Methodist Church in Colombo. A memorial monument was duly erected at Kanatte.

Why I relate all these details is to emphasise that I was witness to each and every aspect of my grandfather's final farewell to this world - from his deathbed to tombstone. I knew fully well that my grandfather had died and that he was not among the living yet I refused to accept that he was dead. Being quite young and having been so fond of him I could not cope with his loss. We were living at the bottom of the lane (Aloe Avenue) by the seaside then.
All such illusions were shattered when war came to Sri Lanka. War is nothing but nasty, brutal destruction. There is nothing laudable in it except perhaps the individual bravery of those courting death for what they thought was a just cause.


I was learning Tennyson's "break, break, break" in my GCE (OL) English Literature class. The poem written by Tennyson over the loss of his friend Arthur Hallam resonated very much with me then. I would sit on the rocks along the Colpetty beach just as Tennyson did "at the foot of thy crags O'sea" and think of my "Appa" as I called my grandfather. (I called my father Papa & grandfather Appa).The lines "But O' for the touch of a vanish'd hand, And the sound of a voice that is still!" would strike responsive melancholy chords in my heart.

Still, the loss was too much to bear then. I just could not accept the fact that my grandfather was dead and gone. I started imagining that he was really alive and that he never died. Whenever I saw an elderly male who bore a resemblance to my grandfather, I would go up to him and stare intently at the point of embarrassment. Sometimes while travelling alone by bus, I would see someone who looked like him on the pavement, get down at the next halt and run back only to be disappointed. Far worse was the thought that like Jesus Christ, my grandfather too had risen from the dead. I would go to Borella, look at his grave and then wander around Kanatte hoping to catch a glimpse of him.

Burden Of "Sorrowful Affection"
Finally, I was liberated from this burden of "sorrowful affection". Due to certain reasons, my family relocated from Colombo to Jaffna in December 1969 just one year after my grandfather's death. While my parents and siblings lived at Chavakachcheri, I was boarded at Jaffna College, Vaddukkoddai. The change of environment and the different experience of living in the North as opposed to that of living in Colombo brought about a change in me. I stopped imagining that my grandfather was alive and began adjusting to life after his death. With the passage of time the sorrow and grief lessened but never ever went away. And then, of course, there were other losses and deaths. (I lost my parents, sister and close relatives and friends over the years).

Then there was the escalation of the ethnic conflict and its consequences. I began losing track of the people whom I knew who died or disappeared or went missing or were injured or got displaced as a result of the ethnic conflict.

Why I recount my experience of almost half a century ago is to show how the loss of a loved one could have a traumatic effect on people. In my case, I had seen the death, funeral, burial and memorial service of my grandfather and even knew the grave in which he lay. There was full closure.
Yet I could not for many long months accept his death or come to terms with the fact that he was no more. This experience makes me ultra-sensitive to the agony and pain suffered by those who have undergone loss without proper closure particularly those who do not know what has happened to their loved ones.
Still, the loss was too much to bear then. I just could not accept the fact that my grandfather was dead and gone. I started imagining that he was really alive and that he never died

When a loved one disappears or is made to disappear and you have no news at all about the missing person how does one cope with that loss? How can memory be consoled when there is no knowledge of what had happened to a loved one? How can a troubled heart be pacified by the mind if no one knows the fate of what befell a loved one?

For many decades I have been writing on politics of Sri Lanka. The island's politics has for long been overshadowed and even overwhelmed by an armed conflict. War has its own consequences and its distinct fall-out. Very often the original causes of war are forgotten and even replaced by new problems and grievances. When I was young and read about the war in newspapers and saw battle scenes on screen, I had a romanticised outlook on war. I regarded war as a noble adventure and fighting as heroic.

All such illusions were shattered when war came to Sri Lanka. War is nothing but nasty, brutal destruction. There is nothing laudable in it except perhaps the individual bravery of those courting death for what they thought was a just cause.

The war in Sri Lanka was a dirty war. It was not fought by soldiers carrying the UN Human Rights Charter in one hand and love in their hearts as former President Mahinda Rajapaksa once stated. The Tigers and other militant fighters were no saints either.

An inevitable consequence of the war was the phenomenon known as Enforced Disappearances. A very large number of people in Sri Lanka disappeared or were made to disappear or went missing as a result of the conflict regarded at one time as South Asia's longest war.

The well-known Human Rights Organization, "Human Rights Watch"(HRW) observed thus in a statement: "Tens of thousands of people were forcibly disappeared in Sri Lanka since the 1980s, including during the last months of the war between the government and the Liberation Tigers of Tamil Eelam (LTTE) in 2009...... The UN Working Group on Enforced or Involuntary Disappearances ranks Sri Lanka as the country with the second highest number of disappearances in the history of its tenure."

"Most of those reported disappeared during the three-decade long conflict between government forces and the LTTE were ethnic Tamils. A short-lived but violent insurgency with a majority Sinhala militant group in the country's South in the late 1980s also led to many enforced disappearances and other abuses by both sides. Various Commissions of Inquiry established by successive Sri Lankan Governments in response to pressure from victims' groups and others have produced reports that have largely remained unpublished and have not resulted in criminal prosecutions of those responsible."
For people whose loved ones pass away tragically in an accident or are killed through violence the struggle to cope is more painful. The worst, however, is for those whose loved ones are made to disappear or have gone missing.

Enforced Disappearances Phenomenon
The HRW statement focuses on enforced disappearances during the war and its aftermath and also highlights the fact that most victims were Tamils. But disappearances did not occur only during the ethnic conflict and neither was the enforced disappearances phenomenon a Tamil monopoly.
People of all ethnicities were victimised but the bulk of war victims were certainly Tamils. A large number of Sinhala youths were made to disappear when the State ruthlessly suppressed the bloody insurgencies led by the Janatha Vimukthi Peramuna (JVP) in 1971 and 1988/89.

As a journalist writing about politics and war in Sri Lanka, I had to write about missing persons too. There were some disappearances like those of Fr. Thiruchelvam Nihal Jim Brown the Allaippiddy Parish Priest and Eastern University Vice-Chancellor Prof.S. Raveendranath about which I wrote extensively.

There were other disappearances about which I did not write in very great detail. Time, media space and scanty information being the reasons. Very few Sri Lankan journalists wrote about disappearances and irked the powers that be then. There were many disappearances about which nothing was written. They have become part of official and unofficial statistics.

Yet every single case of a missing person has a heart-rending story behind it. A missing person may be treated by officialdom as a mere statistic but he or she has a family and many loved ones who yearn for some reliable information about what has happened to him or her.

The disappearance of loved ones is not something restricted to one community or one ethnicity alone. It is correct that the Tamil people have suffered more than other ethnicities proportionately. Yet, the Sinhala people to have suffered immensely during the JVP insurgency of 1988-89. The State ruthlessly suppressed the JVP revolt then. Thousands were killed and thousands simply disappeared.
Many years ago before Chandrika Kumaratunga came to power, Dr Manoranee Saravanamuttu the mother of Richard de Zoysa was in Canada for an event organized by the University of Toronto.
Apart from meeting her at seminars and dinners, I also had a one to one conversation with Aunty Manoranee for about ten hours at the university's Massey College where she was staying. During that very long conversation, she told me so many harrowing tales about the deaths and disappearances in the south during 1988-90.

She told me that the bulk of the victims were from socio-culturally underprivileged caste groups and that there was no strong voice raised, on their behalf. She told me about the activities of the Mothers Front and how the common experience of loss, deprivation, suffering and sorrow brought the Tamil speaking and Sinhala speaking mothers, daughters, wives and sisters together and how the state resented it. I have never and will never forget that conversation.

As I mentioned earlier I had found it very difficult to cope with the death of my grandfather who died peacefully of natural causes. I could not accept it for long although there was full closure.

For people whose loved ones pass away tragically in an accident or are killed through violence the struggle to cope is more painful. The worst, however, is for those whose loved ones are made to disappear or have gone missing.

For them, the lack of knowledge and uncertainty is sheer agony. There is no closure after death for them because they are not sure whether their loved ones are among the dead or the living. All that they need or want is some official pronouncement of what had really happened. Reason tells them that persons gone missing for so long cannot be among the living but their hearts full of love for the lost loved ones refuse to accept the loss as permanent. The heart has reasons which reason itself may not understand. Humans are not systems of intellect alone. They are bundles of emotion too. They mourn and they yearn. They grieve and they hope.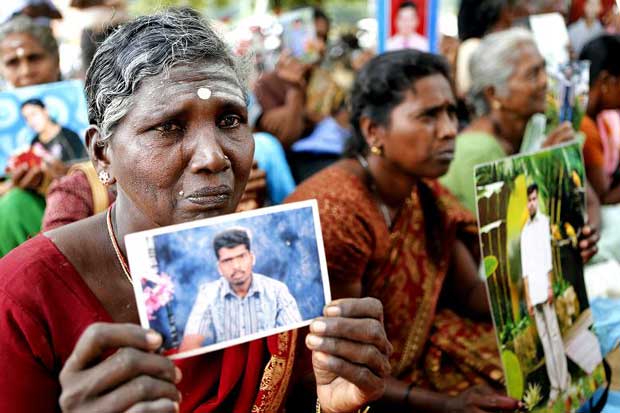 "Audacity Of Hope" Sustains Loved Ones
It is this "audacity of hope" (To borrow from Barack Obama) that sustains these loved ones of the missing persons to pursue with their quest of seeking the truth about their loved ones. It is this audacity of hope which compels someone like Sandya Priyangani Ekneligoda to prolong her search for the truth about what really happened to her husband Prageeth, the well-known cartoonist and journalist.

It is this audacious hope, which makes the mothers, spouses, sisters and daughters of the disappeared in the North and East to persist with their search for the truth about their loved ones. They demonstrate with placards, go on protest fasts, walk-in processions, sign numerous petitions and above all observe regular religious rites seeking the truth about their loved ones. In the process, they are very often exploited by crafty politicians, misguided priests, mercenary NGO operatives, so-called civil society activists and publicity seekers.

Regardless, they go on motivated only by their love and devotion to their loved ones.

I once asked an old mother why she continued in her quest to find out about her son who went missing over a decade ago. She answered me thus in Tamil "Money (son) Nee Kaanaamap Ponaa, undai 'Komma' (Mother) unnai ippadi Theda Maattavey?" (If you go missing won't your mother search for you like this?).

She went on to say "Avanukku Enna Nadanthathendu Theriyealleiye.Unmai theriya Vaenum Avan irukkiraanaa? illaiyaa?endu. Illaiyendu thelivaaichchonnal enakku kavalai endaalum nimmathi " (I don't know what has happened to him. I must know the truth about him, whether he is alive or dead? If I am told clearly that he is no more then I will be sad but would be at peace). And then she said wistfully "Aetho enakkoru nambikkai. Avan Engeyo Irukkiraan. Avanaik Kandupidichidalaam Endu"( Somehow, I have a belief that he is there somewhere. I feel he can be found). This then is the audacity of hope.

Alexander Pope wrote "Hope springs eternal in the human breast". Cicero stated, "Dum Spiri Spero"(While I breathe, I hope).

As a journalist, it has been my duty to interact with a cross-section of people from all walks of life. This has resulted in my keeping in touch with those in power and authority as well as being accessible to the powerless, ordinary people. It goes with the territory. The challenge is to know the "truth" through interacting with the common people and then speak that "truth" to power. There are many, many sad moments for journalists who feel and empathise. As a safety mechanism, you construct a cocoon around yourself because if you are what is termed as a "bleeding heart liberal" you may very well bleed to death.
There are mothers and sisters of soldiers who still shed tears urging us to at least find a bone fragment of their sons and brothers who went missing during the years of conflict if they are to come to terms with what they have been told – that these soldiers are no more

For me, some of the most poignant moments in my journalistic vocation have been when those dear and near to the missing persons seek my aid to help seek information about their loved ones. They approach me directly or someone approaches me on their behalf and seeks my help to find out about their missing loved ones. It is very painful and emotionally debilitating to reply that I won't be able to help because I am helpless in this. There is no one to ask or seek answers from in this regard. I have tried several times in the past to find out about people taken away without a trace or made to disappear but always came up against a stonewall of silence from those in power. As journalists we are supposed to seek the truth but what does one do in situations like this? What is the definite reply one can give to these families about their missing loved ones? More importantly what is the response of the State or those in power to these questions?

Minister Mangala Samaraweera
Mangala Samaraweera in his previous avatar as Minister of Foreign Affairs aptly described the predicament of the people in this situation and the dilemma faced by those in authority in a statement tabled in Parliament on August 11, 2016.
Mangala in his statement said -

"As you know, there is no corner of this blessed and beloved country of ours, that has not been drenched by the tears of mothers, fathers, sisters, brothers and children who have wept and continue to weep, not knowing where their loved ones are, or what happened to them. They only know that they are missing. They don't know whether they are dead or alive."

"Tears and pain have no ethnicity, no religion, no race, no caste: All their tears are the same. The grief they feel, their anguish, their pain is personal, but the same. Their suffering cannot be explained in words. Every day, there are people in this country who go to sleep at night, praying that their loved ones will return. There are mothers who are paralyzed with grief; they are lost in time; unable to continue with their day-to-day lives, worrying whether their sons, wherever they may be, have enough food to eat, or whether they are being treated alright; wondering how much they may have grown, or how much they may have changed since they last saw them. These people are torn between hope and despair, and are unable to live meaningful lives."
The war in Sri Lanka was a dirty war. It was not fought by soldiers carrying the UN Human Rights Charter in one hand and love in their hearts as former President Mahinda Rajapaksa once stated. The Tigers and other militant fighters were no saints either.

"When one sees a dead body, no matter how unbearable the pain of loss may be, there is closure, because there is a knowledge that one's loved one is no more. But how can one find closure, and how can one be expected to find closure when there is no knowledge of what has happened to someone?"
"There is probably no district, and certainly no province in this country which has been untouched by the phenomena of someone going missing – either in the 1970s, the 80s, the 90s, or later. In my electorate in Matara, there are mothers who still go from astrologer to astrologer trying to find out what happened to their children who went missing in the 80s and 90s, and some even as far back as the 70s. They still live in hope."

"There are mothers and sisters of soldiers who still shed tears urging us to at least find a bone fragment of their sons and brothers who went missing during the years of conflict if they are to come to terms with what they have been told – that these soldiers are no more. Without that, they say they cannot come to terms with the fact that their loved ones are no more. They have only heard, they say, that a camp was overrun but received no further details. They have received no evidence that their loved ones are dead. So they wait and they wait forever, without carrying out the last rites; without giving alms to confer merit on the departed. Is this what the families of our soldiers deserve?"

"As a responsible State, can we continue to ignore their tears and their pleas? Can we just say to them that we don't know what happened to their loved ones, and ask them to accept that they are dead? Can we expect them to take whatever few thousand rupees that is given to them as compensation and lead normal lives?"

"Can we, as a responsible State, just tell them that all the people who are missing – and this includes soldiers, policemen, and other security forces personnel – have all probably gone overseas and are now leading new lives under new identities, and so, they are best forgotten? Can we, as a responsible State, say that no country in Asia or no country in NATO has established an Office to ascertain the fate of those who have gone missing and that therefore, we should also not make any attempt to find out what happened to the Missing in our country, to provide answers to families or loved ones?"
'Those Who Went Missing Are Our Citizens'
"These are our citizens: those who went missing are our citizens; those who grieve are also our citizens. Don't we, as a responsible State, have a duty to try to alleviate their agony? Try to at least help them find an answer; or try to help them find closure?

"If this is not the compassion that Gautama Buddha has taught us, then, what is? It certainly cannot be the symbolic chanting of Gathas, or offering of flowers, or building new statues and temples. We have to be able to reach out to our fellow citizens who are suffering; who have been suffering for years and years, and alleviate their pain.

"If the loved ones they seek are no more, we have to be able to help them find the truth. We have to help them to come to terms with the truth. We must assist them in their process of healing. We must help them to continue with their lives in a meaningful way, and be productive citizens of our country. How can we say that we are guardians of the noble teachings of the Buddha if we don't practise his Teachings? Can we, as the compassionate nation we claim to be, shut out the grief of a large number of our mothers, our fathers, our brothers, our sisters, and our children, and be deaf and blind to their pain, their wailing, their silent agony, their psychological trauma and their tears?"

"For some, this emotive and heart-wrenching issue is a mere numbers game. They try to justify the numbers by saying such and such a number is overseas and accuse countries for not sharing information. This is not the way to approach this issue. It is not a matter of numbers. It is a matter of individuals. It is a matter of human beings. It is a matter concerning our citizens, and it is a matter of creating mechanisms that are credible which enable people to share information, even entities in countries in which some who are reported as missing may be leading new lives under new identities. I am sure there is duplication and errors in the various records maintained by various different entities. With the setting up of this Office, by an Act of Parliament, we will finally have a credible mechanism that will be in a position to centralize data at national level, integrating all information with regard to missing persons currently being maintained by different agencies, as recommended by the LLRC, way back in 2011."

The regime change in Sri Lanka on January 8, 2015, saw a glimmer of light emerge at the end of the dark tunnel. The newly installed Sirisena - Wickremesinghe Govt. adopted a series of progressive measures. Among these was the attempt to institutionally tackle the missing persons issue.

On August 11, 2016, the Island nation's Parliament passed legislation to set up an Office of Missing Persons (OMP) in the country. The then Foreign Affairs Minister Mangala Samaraweera hailed the passage of the OMP bill as "historic". Addressing a news briefing soon after the Bill had been ratified, he said the new law would give relief to the loved ones of thousands from the North and South of the country who had disappeared.

"This is the first step towards rectifying the mistakes during the past 68 years," said the Minister who had a long history of championing the cause of persons made to go missing through enforced disappearances.

Four Main Functions Of OMP
In a public statement issued earlier in August, the Foreign Minister explained basic details about the envisaged Office of Missing Persons Bill. In that statement he said: "The Bill outlines four main functions for the OMP -- (i) Searching and tracing of missing persons; (ii) Clarifying the circumstances in which such persons went missing and their fate; (iii) Making recommendations to relevant authorities to reduce such incidents of missing and disappeared persons and (iv) Identifying proper avenues of redress. As such, it is not a law-enforcement or judicial agency but a truth-seeking investigative agency."

Mangala Samaraweera went on to say: "The Office on Missing Persons is a truth-seeking investigative agency. It does not make judgements on disputes. In fact, the legislation states that "the findings of the OMP shall not give rise to any criminal or civil liability." Its primary function is to establish whether a missing person is dead or alive and, if he or she is dead, discover when, how and where they died."

Despite the aura of hope and optimism exuded by ex-Foreign Minister Mangala Samaraweera progress on the OMP front was very slow. The process was extremely slow but then this has been the tragedy of this blessed island since independence - Whatever that is bad is done very quickly while whatever that is good is done at a painstakingly slow pace. So the OMP process moved forward not by leaps and bounds but in fits and starts. Though the legislation was passed in August 2016 to set up the office of missing persons, it began assuming operational form only a year later.

President Maithripala Sirisena signed the gazette notification operationalising the OMP in September 2017. The Acting Secretary General of the Constitutional Council called for applications to appoint members to the OMP in October 2017. Applications were called from persons with previous experience in; fact-finding or investigation, human rights law, international humanitarian law, humanitarian response, or possessing other qualifications relevant to the carrying out the functions of the OMP.

There were over 300 applications and the selections were made through an open and competitive process conducted by the Constitutional Council. After intensive perusal and much deliberation, the Constitutional Council which includes political leaders with diverse viewpoints such as Ranil Wickremesinghe (UNP), Rajavarothayam Sampanthan (ITAK), John Seneviratne (SLFP), Champika Ranawaka (JHU) and Vijitha Herath (JVP) arrived at the unanimous decision.

UN Human Rights Council Sessions
Meanwhile, Mangala Samaraweera in his new avatar as Finance minister allocated 1.3 Billion rupees towards the office of missing persons in the 2018 budget presented in November 2017. The names of the OMP nominees were submitted to the President by December 2017.If the President did not approve or wanted changes he was required to send the nominee list back to the Constitutional Council(CC) within two weeks. Since he did not do so, it was obvious that the President was in agreement with the CC.

However, presumably because of the local Govt. poll on February 10, 2018, President Sirisena made no forward movement on the matter and virtually "sat" on the list. Finally, President Sirisena moved and on the last day of February formally appointed the chairman and other council members of the Office of Missing Persons (OMP) with effect from March 1st, 2018. Again, it may not be entirely a coincidence that the UN Human Rights Council sessions begin in Geneva during March.

The Chairman of the OMP is the reputed Human Rights and Constitutional Lawyer, President's Counsel Saliya Peiris.

The other members are academic- lawyer and well-known human rights activist - Dr Sriyani Nimalka Fernando, Retd Major - General Mohanti Antoinette Peiris, Women's Rights activist and lawyer - Ms Jayatheepa Punniyamoorthy, Lawyer cum Researcher -Mirak Rahim, Lawyer cum researcher T. Somasiri Liyanage and Human Rights worker Kanapathipillai Venthan.

They will serve initially for a term of three years. The OMP work will be coordinated by the Secretariat for Coordinating Reconciliation Mechanisms (DCRM) headed by Mano Tittawella of which former President Chandrika Bandaranaike Kumaratunga is in overall charge as head of the Office of National Unity and Reconciliation.

A certain amount of gender and ethnic balance has been achieved in the composition of the OMP body. Sufficient attention has also been given to real life experience as opposed to academic qualifications alone.

Ms Jayatheepa Punniyamoorthy is someone whose husband went missing while they were living in Mullaitheevu. She is now in Batticaloa and actively involved with an organization called "Women in Need" focusing on women's issues.

Lawyer Somasiri Liyanage is someone who worked comprehensively in compiling the report on the prison riots.

Mirak Raheem has been associated for many years with the Centre for Policy Alternatives (CPA) as a researcher on human rights, reconciliation and minority rights issues.

Kanapathipillai Venthan is a human rights activist who has rendered yeoman service to the International Committee of the Red Cross (ICRC) in helping to trace missing persons.

Nimalka Fernando's track record as a human rights activist is impeccable. She has courageously withstood charges of traitorous acts and death threats by regularly going to Geneva for the UNHRC sessions.

The inclusion of Maj-Gen (retd) Mohanti Peiris in the OMP is very interesting and most welcome.An old girl of Uduvil girls high school in Jaffna, Mohanti passed out as a lawyer and joined the Army's Legal Affairs Division and went right up the promotional ladder to end up and retire as Major - General.
Mohanti herself hails from a family of distinguished lawyers in Jaffna. Her father Selvaratnam, as well as his brothers Thambiratnam and Sabaratnam, were a well-known trio of lawyer brothers.She is married to Brigadier (retd) Basil Peiris.

Given the current context where the armed forces are being blamed for many cases of disappearances and missing on the one hand while families of defence personnel reported missing in action blame the military top brass with disbelief on the other, Maj-Gen Mohanti Peiris will face an uphill task in discharging her duties in the OMP. Those who know her well opine that she will complete her mission successfully.
Transitional Justice Mechanisms
According to the Presidential Media Unit, the OMP's main mission will be to determine the status of all missing persons in Sri Lanka and will be the first pillar of the transitional justice mechanism through which the government hopes to bring about reconciliation and lasting peace. The OMP is the first pillar of Sri Lanka's four transitional justice mechanisms under design and implementation. The others are Office to handle reparations, a truth and reconciliation commission and a judicial mechanism to address allegations of wartime abuses. The Presidential Media Unit also said that the OMP would be an independent body reporting to Parliament and was expected to bring a degree of closure to surviving family members of Sri Lanka's internal conflicts. It would also set the stage for sustainable reparations for victims and their families.

So the long-awaited Office on Missing Persons (OMP) has become operational at last. It is too early to speculate on how the Office of Missing Persons would function in the future and how it would tackle the prickly issue of missing persons and disappearances. There are also perplexing doubts about the future when Mahinda Rajapaksa and his political minions orchestrate a pseudo-patriotic backlash against the OMP.

How will the Sirisena -Wickremesinghe Govt. that is united by name and divided in practice respond? Will the "predictably unpredictable" President brandish his sword against those opposing the OMP or will he twirl his "kaduwa" inwards to cause self-inflicted injuries? Will the functions of the OMP be restrained and be used merely as a showcase to appease international opinion?

These are all valid questions and no answers can be forthcoming at this point in time. Nevertheless, the setting up of an office of missing persons is by itself an accomplishment. More importantly, it signifies that the Sri Lankan nation has shed its customary denial mode and realistically acknowledged the existence of the missing persons problem. May the setting up of the Office on Missing Persons symbolically determine that no Sri Lankan will ever go missing again and that no Sri Lankan family will languish in the future about their missing loved ones.

Magic of This Moment
For a nation long denied positive gains on the human rights front the setting up of the OMP and commencing operations is a significant milepost. These events are like silver linings in dark clouds. We need such happenings to feel good and to retain our sanity. This then is our day and let us seize that day. Whatever the future may be, this is our magical moment. Let us then capture the magic of this moment.
D.B.S.Jeyaraj can be reached at [email protected]