---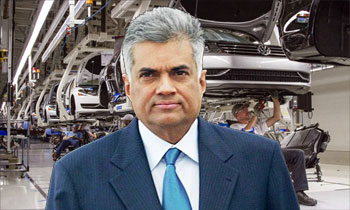 Prime Minister Ranil Wickremesinghe said yesterday that the Volkswagen Company had not invested in the Kuliyapitiya vehicle assembly plant.
He was referring to a news item carried by a TV channel quoting the investor in Kuliyapitiya that Volkswagen had no stake in the assembly plant.
"If this channel inquired from me I would have revealed the truth. One must not contaminate his or her mind just because he or she has a grudge against me," he said, speaking at the opening of Kalu Ganga Water Project in Horana last evening.
He said the government had decided not to allow Volkswagen to invest in Sri Lanka as the company had an issue.
However, he said Volkswagen would be one of the brands of vehicles which would be assembled at the Kuliyapitiya plant. (Yohan Perera)