---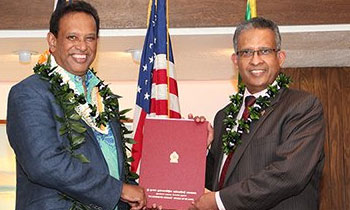 Bede Dhammika Cooray had been appointed as the new Honorary Consul of Sri Lanka to the State of Hawaii, Sri Lankan Embassy in Washington DC said.
At a ceremony at the Pacific Club of Hawaii, Ambassador Prasad Kariyawasam extended a warm welcome to Bede Dhammika Cooray.
The presentation of the commission of appointment to the new Honorary Consul was preceded by a celebration to commemorate the 69th Anniversary of Independence of Sri Lanka with the participation of senior representatives of the Hawaiian administration, judiciary, diplomatic community, US Pacific Command (USPACOM), East West Center, Asia Pacific Center for Security Studies (APCSS) as well as the Sri Lankan American community.
Speaking at the event, Ambassador Kariyawasam highlighted the recent exponential progress in the United States-Sri Lanka relations, and thanked the people of the United States, especially those from Hawaii, for becoming partners with Sri Lanka in its challenging and transformative journey to develop as a modern democracy, integrating with the world for business and trade, in peace and friendship. Sri Lanka fully recognizes the importance of Hawaii and the institutions based in Honolulu for the further promotion of bilateral relations with the United States.
"In the new Honorary Consul, Sri Lanka has found a person with the capacity and commitment to facilitate Sri Lanka-Hawaii relations to reach new heights," he said.
A resident of Hawaii for nearly 30 years, Bede Cooray is an accountant by profession and owns business operations both in Hawaii and in Sri Lanka. His commitment to local and international social responsibility and efforts to promote people to people contacts between Sri Lanka and Hawaii, are well-known. As a leading member of the Sri Lankan-American community in Hawaii, he has actively participated in many projects to assist communities, both in Sri Lanka and in Hawaii, in times of need.
Honorary Consul Bede Cooray speaking at the ceremony said, " I am committed to promote more contacts between Hawaii and Sri Lanka."