---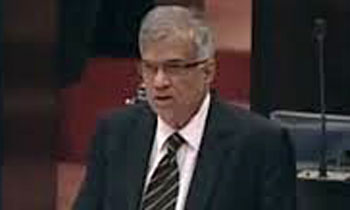 Sri Lanka's future depends on the ability which the UNP and the SLFP possess to reach an agreement on the fundamentals of the new Constitution, Prime Minister Ranil Wickremesinghe told the Constitutional Assembly today.
The Prime Minister made this remark while presenting the interim report of the steering committee established under the constitutional assembly. The report was actually presented to the constitutional assembly by him.
"It is up to the SLFP and the UNP to reach an agreement on the fundamentals of the new constitution and the future of this country depends on the ability which the two parties have to reach such an agreement" the Prime Minister said.
Mr Wickremesinghe said keeping the unitary status of the country and maintaining the foremost status of Buddhism will be some of the fundamentals of the new Constitution.
He said the interim report had proposed a new structure for the government. This he said will comprise three tiers namely the centre, provincial councils and the local bodies. " Emphases is made on maximum devolution of power where maximum power will be devolved to provincial councils and to make it the second tier of the government" he said.
" Matters with regard to the executive presidency have been left for further discussions as parties have come up with different suggestions on it," he added.
The Prime Minister stressed that the objective of the government was to bring in consensus instead of division and take the country towards peace and development. He mentioned that the TNA had taken a significant step to work with the main political parties and bring in peace and prosperity to all people.
" We want to ensure a nation where it's people will reap the benefits of economic development. We want to make sure that people could fulfil their basic needs such as food without any difficulties. We cannot afford to lose the opportunity we have before us to work together and bring in a constitution which is useful to all people" he also said.
Further the Prime Minister said the interim report is not the final draft as it will be subjected to further discussions especially among the public and will be amended accordingly. " We would like to see the interim report subjected to a broad debate," he said. (Yohan Perera and Ajith Siriwardana)