---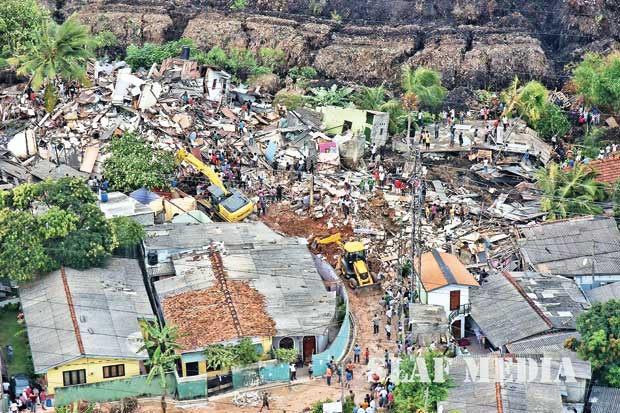 The destruction inflicted by the collapse of the garbage dump
Pics by Waruna Wanniarachchi
On the afternoon of April 14, tragedy struck Meethotamulla when most people were in their houses enjoying the holidays and festive bliss of the Sinhala and Tamil New Year. The floor started vibrating and a mound of earth collapsed on them. Some escaped running for their lives. But some were stuck in the rubble and residents claim that despite the pleas of these victims, rescue operation were not underway until 2.00 am the next day. Twenty six people have died so far due to the collapse of a section of the Meethotamulla garbage pile.

The search continues
Victims devastated of a foreseen tragedy: Death toll reaches 26

There were seven children among the dead. According to statistics gathered by residents, another 20 (probably) were feared dead and they also claim that as many as 60 people might have been stuck in the rubble. According to the police, seven victims are currently undergoing treatment at the Colombo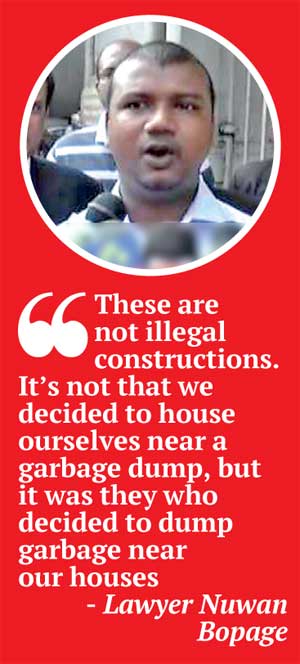 National Hospital.
"The garbage started sliding at around 1.30 pm on April 14. Until 2.00 am the next day, though there were more than 500 Army and Police personnel, there were no lorries, excavator or any other vehicles to remove the rubble. In the interim, we heard people crying out for help. Others took shovels and tried to save lives. It was only at 2.00 am that people themselves decided to get the excavators from the depot," said Nuwan Bopage, a lawyer and the organizer of the Movement against the Meethotamulla Garbage Dump. However, by that time he said that people's cries could not be heard. When questioned by the Daily Mirror, V.K.A. Anura, the Commissioner of the Colombo Municipal Council said he was unaware of it and declined to comment further adding that the CMC has done whatever they could since the tragedy struck. The CMC is currently providing food, clothing and other essentials to the affected people and they are financed by the Council.
Speaking to Daily Mirror, the Commissioner of the CMC added that currently around 79 families were displaced and 263 houses would be removed. He said according to the geologists, that the collapse occurred due to heavy rainfall.

When asked if the tragedy was not foreseen, he said that the residents had been asked to evacuate from the area. "Some had left while some stayed back. We gave them a monthly assistance of Rs.15,000 for six months, so they could rent out an alternative abode, pointing out there is a risk of this nature when there is a heavy rainfall," he said.
Since 2011, the Movement against the Meethotamulla Garbage Dump has organized more than 15 protests but to no avail. "Both the previous and current governments turned the protesters away by using tear gas at us and baton charges. The same police and Army men who suppressed us then are now here to dig out the buried bodies of our children and our people," said Bopage.
He believes that there has been an alleged deal which bartered their lives for the benefit of politicians. "The CMC had allegedly given the Rs.600 million tender at Rs.800 million and shared the Rs. 200 million among themselves and the politicians," he charged.
Bopage added that in February 2015, Prime Minister Ranil Wickremesinghe promised to solve the issue within six months, but no recourse was offered. Meanwhile, the PM has issued a special statement expressing regret over the incident adding that plans and actions to remove the garbage dump were underway though they were not operational.
Devastated by the unbearable loss of lives and property

Deputy Foreign Affairs Minister Harsha de Silva in a social media post said it was ironic that 'only a few weeks ago, agreements were signed to convert waste to energy projects to finally deal with this perennial issue'. "No more garbage will be dumped at this site and two temporary sites were identified this morning for which law enforcement officers would provide access to unblock protesters driven by petty political issues," the post read.
The post further noted that payments had been made for those families under risk of landslides to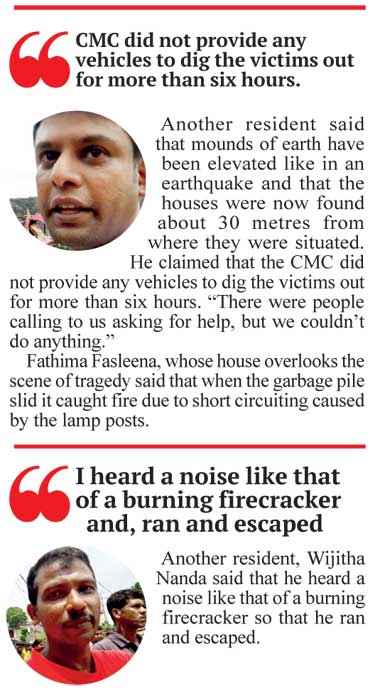 move out, but some had not done so. "They had even been advised to leave as recently as two days ago," it said. But residents said they were never asked to leave the place.
However, Bopage said that even if they were asked to leave, it was not possible, as the houses built were the result of the endurance of the people and were worth their lives' earning. "Five generations of people have lived here and they have land ownership deeds. These are not illegal constructions. It's not that we decided to house ourselves near a garbage dump, but it was they who decided to dump garbage near our houses," he said. He asserted that their persistent struggle was never to quit the place but to remove the mountainous pile. However, the National Building Research Organisation (NBRO) has advised to relocate 130 houses situated near the Meethotamulla garbage dump.
"Two years ago also there was a risk of around 300 houses facing collapse. Then they were offered Rs.1,500,000 and the residents left," he pointed out.

He further said that though 60 organizations submitted reports to solve the issue, authorities did not accept any of those proposals.
"Politicians who turned a blind eye to this issue should resign. No divisional representative wanted to solve this issue. They gained political benefits out of this, and our children have paid the heavy price for this," he stressed.
"If another garbage truck arrives, we will burn down both the lorry and the driver. We warn politicians not to come here to shed crocodile tears," he said.
The bodies of the daughter, son-in law and granddaughter of Keerthi Rathna Perera, the convener of the Movement against the Meethotamulla Garbage Dump who worked tirelessly for this cause, were dug out. His wife has been paralysed below the hip, he added. According to him, devastated residents angered by the garbage collapse have set fire to an earth mover at 5.00 pm, on the day the tragedy took place.
Dudley Danthanarayana, who has been a resident of Kolonnawa since 1968 said that by 2.00pm houses seemed to be flying. "My house, a huge two-storyed house, is now 50 metres away from where it was. We were just about to have our lunch, but had to grab the hands of our children and run for our lives clad in sarongs. My vehicles were also destroyed," he said.
He said that though he has taken part in discussions with the CMC Commissioner and MP S.M. Marikkar, no solution was offered though he had warned them of an impending tragedy. "I asked them for a solution over and over again, but they remained silent," he said adding that they were never asked to leave the area.

"The CMC has given the tender to a private company to dump garbage here which was not merely collected from the 15 zones of Colombo. Four trucks registered with the private company come from Matugama," said a resident, while another added that there were trucks coming from Homagama, Padukka and Peliyagoda. "The garbage of the whole of Colombo district is dumped here for money! We hope the Supreme Court will give us a justifiable solution," he added. According to reports, the Meethotamulla garbage dump is 180 feet in height and contains approximately three million tons. 700 to 900 tons of garbage is collected from the Colombo city daily and dumped here. He further stated at the press briefing held in February that a staggering 1,000,000 tons of garbage was collected from all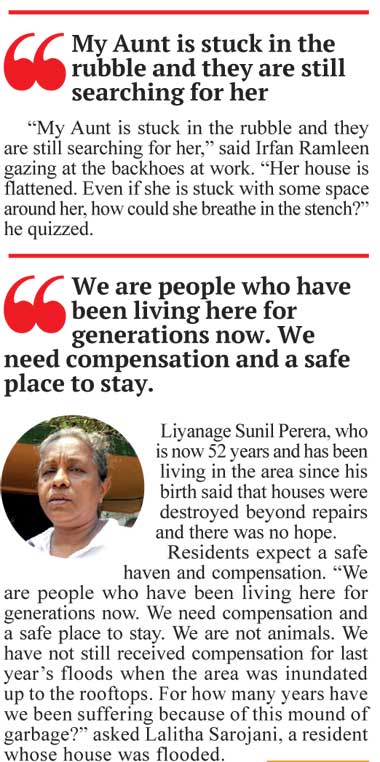 parts of the country and brought to Colombo, which was ultimately dumped at Meethotamulla.
Hemamali Abeyratne, an activist fighting against the dumping of garbage at Meethotamulla said that their first protest as a movement was in 2011, held near the Meethotamulla depot and lasted for four consecutive days and prevented garbage trucks entering.
"But the then rulers used the Army, Police and the STF to chase us away. Our people were beaten and hospitalized. Garbage trucks were parked on the road and we were unable to enter. The government suppressed us by using their power and weapons. Villagers were beaten, scolded, and they even tried to bribe the villagers. Those buried are our children, parents and elders. Who will take responsibility now?" she lamented.
When the Daily Mirror visited the area on Saturday, the pathway that led to the garbage dump was flooded. Distressed and angered residents stood on the sides. From close proximity to where the tragedy struck, we were told that the rubble before us had covered a road completely.
"The Dahampura road is 40 to 50 feet below the rubble," said Bopage. He added that the area we stood was elevated by 40 feet as a result of the force exerted by the massive slide. Pointing at a house partly destroyed, he said that a child who lived there died of dengue two weeks before. Houses had collapsed completely and trees were uprooted. While we were talking to them, several backhoes were seen removing the soil.
"Currently around 79 families are displaced and 263 houses will be removed."
"Since 2005 people have been visiting us but no relief was offered," said a weeping Kanthi Kannangara, whose house was built on a block of 15 perches of land which has been completely destroyed by the incident. "The army and the police were very helpful," she added suppressing her tears.
Sri Rahula Vidyalaya, situated near the garbage dump is now converted into a centre to obtain information from victims. It is a combined effort of the Army, Navy, Air Force and the CMC. Terrance Vidyalaya provides temporary shelter to those who were displaced and currently there are around 75 families seeking shelter while other have sought shelter from neighbours, friends and relatives. According to the Ministry of Defence website, a contingent of Army troops from the 14th Division of the Security Force Headquarters - West (SFHQ-West), the STF and the Disaster Management Centre are involved in relief operations. Further, an Air Force helicopter was utilized to control a minor fire that broke out after the incident. It was also reported that the Japanese government promised to send a team of experts to provide relief.
A man who has been living in the area since 1988 said that garbage was dumped in smaller volumes in the area since 1983. "When garbage from Colombo was dumped, we protested and then they shifted the place to Bloemendhal, where another conflict took place. Then they started to dump them here once again forcibly. This
was in 1994."
In a nearby three-wheeler, a woman was weeping while two women were seen offering solace to her. Perhaps she had just understood or seen a loved one dead, or had her house completely destroyed. But the tears she shed were reflective of continuous negligence by successive governments, and the price they ultimately paid and may continue to pay if the authorities do not bring about a permanent solution.
A dead body in the rubble unearthed