---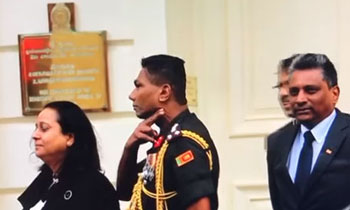 The Minister Counsellor (Defence) attached to the Sri Lankan High Commission in London was allowed to resume duties on a Presidential Directive today after being suspended from his duties following a video footage, Army Spokesperson Brigadier Sumith Atapattu said.
The video footage showed him behaving in an offensive manner was emerged and circulated on social media during the past few days.
Speaking to the Daily Mirror Brigadier Atapattu said the Minister Counsellor was earlier suspended from his duties until inquiries were concluded with regard to the alleged incident involving him.
"However, President Maithripala Sirisena has directed the authorities to allow him to resume duties from today. Inquires are still on-going with regard to the alleged incident," Brigadier Atapattu said.
The incident occurred during a protest held by a group of LTTE supporters outside the High Commission in London on the Sri Lanka's Independence Day.
The protesters demanded information on the missing persons, to release all political prisoners and to close down torture camps.
A video showed Minister Counsellor (Defence) Brigadier Priyankara Fernando, who came out from the High Commission office, making a slitting the throat gesture towards the protesters. (Kalathma Jayawardhane)