---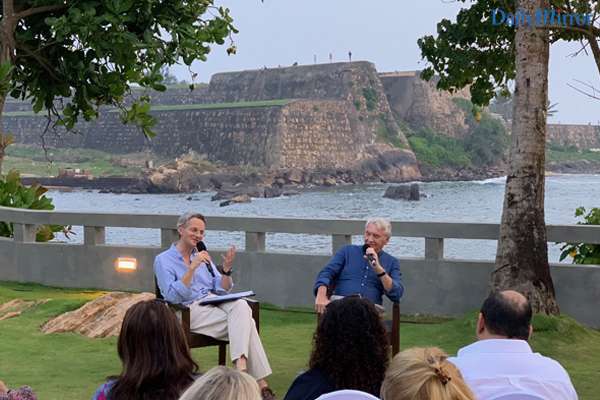 Donald McCullin is interviewed by Tom Owen Edmunds in a scenic setting overlooking the Galle Fort at Le Grand by Asia Leisure
The Le Grand Hotel in Galle was selected as the venue of choice to host legendary photographer Sir Donald McCullin at a literary salon titled 'Landscapes at Sunset,'on 19 January 2019. The intimate event was attended by invitees, members of the press, and guests with a special interest in the topic and speaker, as part of the diverse programme for the 10th anniversary of the Fairway Galle Literature Festival(FGLF).
In true testament to Asia Leisure's commitment to the Arts, Le Grand has been named an official accommodation partner for the FGLF.Le Grand by Asia Leisure overlooks the UNESCO Heritage site Galle Fort, and so just a few steps away from the locality's annual literary festival's events.As part of the group's ongoing arrangement with the annual literary fete, the luxurious Le Grand -the newest of Asia Leisure's six properties across the island- will be hosting the stays of five esteemed visiting authors, and will also serve as a venue for three other FGLF events in addition to 'Landscapes at Sunset.'
Having witnessed through his lens some of the most harrowing global wars and disasters through a career spanning over the course of half a century, British photojournalist-and one of history's greatest war photographers- Donald McCullin is no stranger to urban conflict. His dedication to documenting stories of war has taken him from the Vietnam War to the Lebanese Civil War, from being imprisoned by the Idi Amin regime in Uganda to contracting cerebral malaria in West Africa. Sir Donald McCullin, CBE, Hon FRPS, has since been the recipient (twice) of Premier Awards from the World Press Photo Foundation and received the Cornell Cape Award for Lifetime Achievement. Named Master of Photography at 2016's Photo London Fair, in 2017 he became a Knight of the Realm, the second photographer (after Cecil Beaton) to have been given such an honour.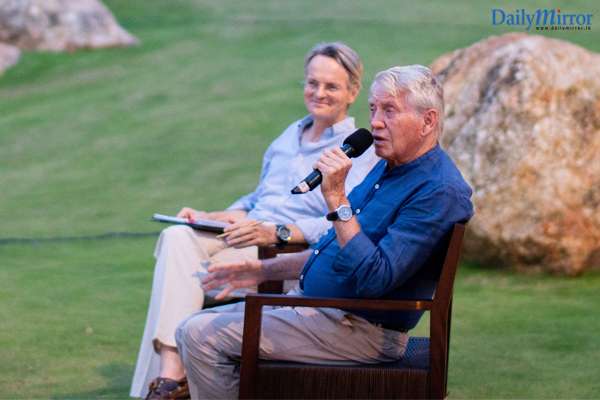 Renown photographer Sir Donald McCullin is interviewed by Tom Owen Edmunds during a Literary Salon hosted at Le Grand for Fairway Galle Literary Festival
At the literary salon however, McCullin chose to take a step back from military coups and gunshots to focus on the subject of landscape photography,his most recent publication being a stunning collection of iconic landscape photographs.It is this ability to put to use the same unerring eye incapturing striking and unusual imagery of such conflicting themes that has made him the much-lauded photographerhe is today.
After having delivered his fascinating take on the subject -captivating both fellow professionals and photography appreciators alike-, the renowned master of the lens took to leading the discourse further by answering questions from attendees, both specific to the topic as well as those related to his many experiences throughout his riveting career.
"When I see something, I kick into my second gear – the emotional side of me. I see things in an emotional way. I'd think my God that road - men would have gone down that road and they wouldn't have back… So when I'm doing these journeys - they're journeys into my soul really. It's not just lugging camera's around and standing in fields. I'm journeying into my soul and into my mind," said Sir McCullin during the event, as he shared his life's work amidst a picturesque setting befitting the scope of the conversation.
Le Grand is the hotel of choice for PM Ranil Wickremasinghe during the course of the five-day literature festival, and unsurprisingly so. With 50 luxury rooms and 7 grand suites to choose from, each offering breathtaking views of the Indian Ocean, the ultra-luxury property promises an experience like no other - serving up only the finest fare, and in the most resplendent of interiors.
Guests at Le Grand as well as visitors will also be on the receiving end of a visual treat throughout the duration of the festival weekend, for breathtaking captures by photographer Kesara Ratnavibhushana will be exhibited at the hotel from 18-20 January.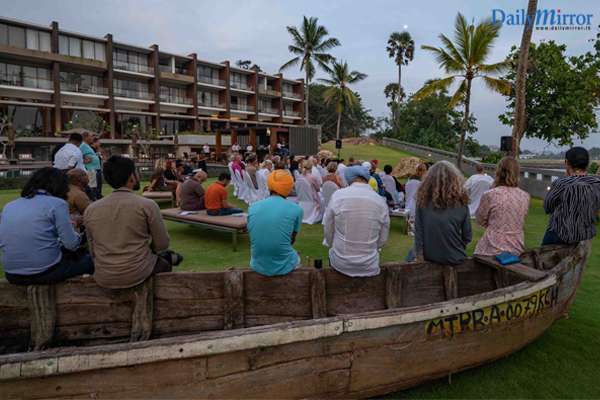 Guests enjoy an enthralling Literary Salon titled 'Landscapes at Sunset' by legendary Sir Donald McCullin at Le Grand, Galle
Under its growing portfolio of first-class hotels and resorts, Asia Leisure has yet another property within close proximity to the Galle Fort. Tamarind Hill, a colonial-style luxury boutique hotel offering the perfect blend of old-world hospitality and contemporary luxury, will also be involved in the FGLF through its sponsorship of author tents.