---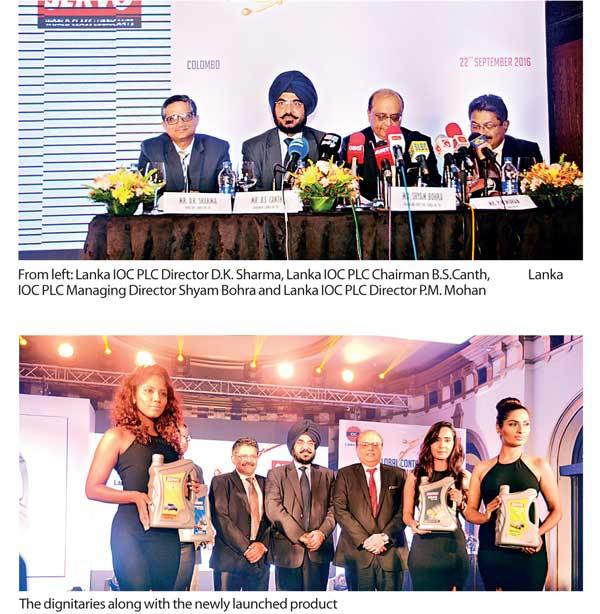 By Zahara Zuhair
Delivering an innovative, dynamic and premium look, Lanka IOC introduced its global container packaging for Servo Lubricants to the local market recently.

The specialty of the product as mentioned was its improved strength and aesthetic look and the feel for the buyer.
Other features as noted were its increased speed, smoothness, higher life span and energy with a higher load.
Lanka IOC PLC Managing Director Shyam Bohra said that they are pleased to introduce the global container concept to Sri Lanka.
"The new design has the ease of handling it, and the aesthetic look is better than before. This particular design has been developed following research," he said.He added that this container is much stronger in terms of design and the container can be used for different purposes and will certainly benefit the end users more.
Though there are 13 players in the country's lubricant market at present, Chevron being the leader, he said that with improved accessibility and brands, their market share is increasing year-on-year. Being the number two player in Sri Lanka and enjoying a market share of 17-18 percent at the moment, he said that they are aspiring to touch up to 25 percent in 4-5 years.
He added that as the R&D is done in India, the new technology is being immediately imparted to Sri Lanka.
He further said that with over 1,000 commercial grades and over 1,500 formulations encompassing literally every conceivable application, SERVO serves as a one-stop shop for complete lubrication solutions in the automotive, industrial, and marine segments.
It was also noted that it comes to Sri Lanka as a compliment from the parent company as it will not add any extra cost to LIOC or consumers.

As LIOC exports Servo brand of lubricants to Maldives, they would be exporting to Indonesia as well in the near future.

Lanka IOC, Indian Oil's subsidiary in Sri Lanka, is the only private oil company other than the state-owned Ceylon Petroleum Corporation (CPC) that operates retail petrol/diesel stations in Sri Lanka. It has over 150 fuel stations in
Sri Lanka.