---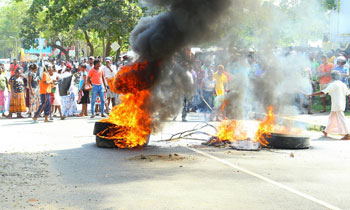 Fifty eight persons including 13 women who were arrested by the police yesterday for protesting in violent manner and unruly manner in Kataragama, had been released on bail by the Tissamaharama Magistrate.
The suspects were arrested on charges of blocking the roads, damaging public properties, assaulting police officers and interrupting their duty during the protest.
They were released on two sureties of Rs. 200,000 each and strict bail conditions.
The series of events erupted when a 44-year-old man, who was heading on the Wedihiti Kanda Road on his motorcycle with another passenger on the pillion had been gunned down by an armed Police Constable around 10.55 p.m. on Saturday night.
According to initial inquiries the motorcyclist had been signalled to stop at a Police checkpoint at Wedihiti Kanda Road, which had been manned by a Police Constable and a Civil Security Personnel.
The PC had fired a round at the fleeing motorcycle as the rider had refused to heed the order causing the latter to sustain serious injuries.
The rider with serious wounds had been rushed to Kataragama Hospital, where he had soon succumbed to his status.
The tense situation erupted between the Police and the residents of the area following the death of the motorcyclist since yesterday early morning.
Several public properties had been destroyed in the clash whilst notable damage was done to the Police Station.