---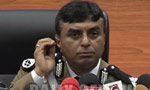 The Police Chief has suspended the police news sent daily to private media institutions through emails with effect from Wednesday, a senior officer at the Police Headquarters said today.
He said the Police Chief had instructed that the daily updates be sent only to state media institutions.
He said this step had been taken after the uproar in the country resulting from his telephone conversation during a recent meeting in Ratnapura. The news was telecast on a private media channel.
Police sources said the Police Chief had also instructed his officers not to invite private media representatives to any functions held at the Police Headquarters in the future.
He is reported to have discussed this matter with several police officers including his Staff DIG Ranmal Kodithuwakku recently prior to arriving at this decision. (Indika Ramanayake)