---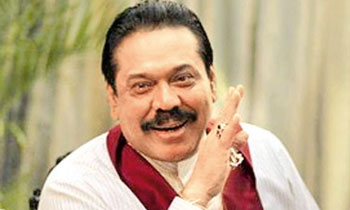 Former President Mahinda Rajapaksa said that the IGP was indirectly involving in propaganda work requesting to vote for the Yahapalana Government.
Addressing an election meeting in Mahiyawa, Kandy, Mr. rajapaksa said the IGP was addressing Police Officers in Vavuniya asking whether the Yahapalana Government is good? And two police officers who went there from Colombo said "Yes Sir" by approving IGP's speech.
He further said, the Police were killing people in Kataragama and they were not doing it in Jaffna and if they had done so, they would have vanished.
Those who go to Jaffna are kept silent. But all are not so. There are good officers. An IGP who can't be controlled even by the President is trying to bring victory for the Yahapalana Government. The officers who went to Vavuniya from Colombo have not approved the speech of the IGP. The Police Officers in Vavuniya have not approved his speech. Nobody has talked about it.
The IGP who expressed his views implicitly to vote for Yahapalana Government, stresses the fact that the vote should be cast to the Yahapalana Government. The IGP has no right to do so. This is against the election law. We are making arrangements to complain regarding this. The IGP has no right at all to canvass votes on behalf of the politician, he said. (Nadeeka Daya Bandara)
Video by Nadeeka Dayabandara