---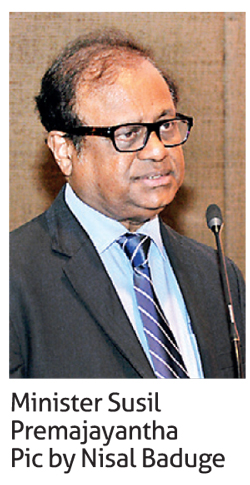 By Lahiru Pothmulla
Science, Technology and Research Minister Susil Premajayantha last week said the government will send a team of experts to Russia to study and gather information about chrysotile fiber (the main ingredient of popular roofing solution, asbestos) and its effect on human health.

The Sri Lankan government has proposed to fully ban the usage of asbestos by 2024.

Speaking at the launch of two studies on chrysotile fiber use in Sri Lanka, where it was said chrysotile fiber has no negative impact on human health, the minister said the team will consist of representatives from different ministries and institutions. "They will have a study over there and gather information and then report back. Thereafter, we will report to the Ministry of Environment, which is responsible for enforcing some kind of restriction.

"According to my knowledge, there are certain restrictions even at present. We will look into how we are going to use this raw material in the roofing industry without harming the humans," he stressed.
Premajayantha said the raw materials for the industry are being imported mainly from Russia and therefore, the subject has been taken up at several high level meetings.

"Recently I met the Russian Ambassador and his predecessor. This matter was also taken up. As a result, we met a delegation led by politicians of Russia and had discussions," he said.

He said his ministry is in the process of conducting extensive research to find out whether white Chrysotile fibre affects the health of people.

"The Industrial Technology Institute (ITI) is conducting research and we may have to consult medical experts," he said.

According to the minister about 1.8 million houses in the country use asbestos sheets for roofing.
"General public mostly use them for roofing and ceiling purposes. Therefore we have to get the expert opinion and then report to the Ministry of Environment and especially the Central Environment Authority (CEA). Then we can get together and address the issue. I'm sure that there are solutions. With our inputs, we will come to a conclusion; not in a hurry but considering all the facts," he said.