---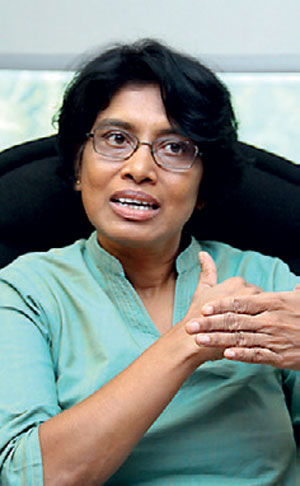 The Sri Lankan government should introduce legislation to allocate a minimum number of board seats in corporates to females, a researcher at a government affiliated think tank opined recently.

Currently only a very low number of females sit on of board seats in corporates, and the situation could be given the same treatment as the government has given to local government bodies, Institute of Policy Studies Research Fellow Dr. Nisha Arunatilake said.

"I, of course think that from the very beginning you need to have assertive policies. The government has already done that; in the local governments, 25 percent should be females. You need to have rules like that at the beginning," she said.

The government last year introduced the Local Authorities Elections (Amendment) Act No. 1 of 2016 to increase female participation in local administration, after it was highlighted that less than 5 percent of local government members were females.
Dr. Arunatilake noted that although such intervention in the private sector isn't ideal, the situation calls for it.

"I'm not totally for it. I'm not saying incompetent females should be put at the top of companies, but in the current environment, unless you have a condition like that, the males won't allow females to get in. So I think initially at least a certain percentage, you have to have females," she said.

According to her, due to the number of males who have climbed up the corporate ladder in recent years, it is difficult for women to compete for the limited positions at the top.

"(And) partly because women themselves don't want to," Dr. Arunatilake added.

Many academics have been calling on companies to provide greater flexibility and facilities for women to take a bigger role in the private sector, while juggling maternal responsibilities.

Fostering greater female participation in boardrooms and top management yields greater profits, according to a landmark global study conducted by the US-based Peterson Institute for International Economics last year.

Female membership in boardrooms in Sri Lanka appears to have improved over the past few years, at least within an extremely limited sample size.

The country's 20 largest public companies—in terms of market capitalization—appearing in the S&P SL20 Index of the Colombo Stock Exchange, had 22 female directors at the end of the 2016/2017 financial year, compared to 12 female directors five years ago.

However, eight of these entities had no female directors either at the end of the latest financial year, or five years ago. Five of the entities had just one female director at the end of 2016/17. Some of these directors were appointed by the government, in ex officio positions.

Dr. Arunatilake said that if just one woman is in the boardroom, her voice may not be heard properly.
She also noted that a small group of males hold director seats across most of the top corporates in the country.

Within the highly qualified educational levels usually required to reach the top of the corporate ladder, females with bachelors' degrees have an 83.9 percent labour force participation rate, and those with postgraduate qualifications have 81.7 percent participation rate, almost as much as males, according to official statistics for 2015.

The average labour force participation rate for Sri Lankan women was 35.9 percent in that year. Therefore, Dr. Arunatilake said that providing females with higher education and vocational training will also increase the number of females entering the workforce.(CW)