---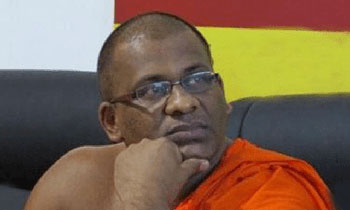 While rejecting claims made by several officials, Bodu Bala Sena (BBS) Chief Executive Officer (CEO) Dilanthe Withanage said Venerable Galagodaaththe Gnanasara Thera's recent visit to Japan was not pre-planned or not aimed at the official visit of President Maithripala Sirisena.
Speaking to the Daily Mirror he said Ven. Gnanasara Thera planned to visit for Japan for the renewal of his Resident Visa offered by the Japanese Government, before the expiry of the due date.
However, his scheduled visit was got late following several isolated incidents occurred in Kandy.
"Ven. Gnanasara Thera had to visit Japan for his Japanese Resident Visa renewal and in-view of the scheduled 60, 000 Cheevara Pooja (offering of robes) at the Ruwan Veli Maha Chetiya in Anuradhapura on May 19. There was no connection of the President's visit to Japan," Mr Withanage said.
"Even Ven. Gnanasara Thera's visit to the Imperial Hotel in Tokyo on Tuesday has happened following the request by the chief incumbent of a Japanese Temple that the Thera used to visit.
"Before he left for Japan he got permission from several courts where cases are pending to be herd and somehow the Thera had forgotten to get permission for a case that was to be held on Thursday (15)," he said.
Several photographs are circulating on some websites and several social media showing the Venerable Gnanasara Thera at events where President Sirisena spoke.
"However, Ven. Gnanasara Thera was not scheduled to attend the events but so happened to be in Japan at the same time and was at the events," Mr Withanage said. (Chaturanga Samarawickrama)