---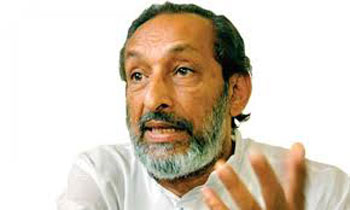 While claiming that Parliament should be dissolved immediately, Democratic Left Front (DLF) Leader and MP Vasudeva Nanayakkara said yesterday they were ready to discuss with other political parties to gain two-third majority to do so.
He told a news conference that a caretaker government should be formed after dissolving Parliament and added that it should take steps to hold a general election.
"There should be a two-third majority to dissolve parliament. We are ready to join with other political parties specially anti-UNP forces despite any political differences to get their support. A caretaker government should be appointed, which should announce a general election. We will suggest Chamal Rajapaksa as the leader of the caretaker government," he said.
He said this government could not be removed legally from office but it had no mandate to remain in power any more.
Mr. Nanayakkara said a huge turmoil had emerged after the Local Government election results and added that even the World Bank and the IMF would ask the government to withdraw.
When asked whether they would join the SLFP, he said both the SLFP and they had been forced to do so and added that the SLFP MPs in the government should sit in the Opposition now.
"They should come to the Opposition now. It means not to the Joint Opposition. People have rejected the national government with the UNP. People have rejected the UNP's policy," he said. (Ajith Siriwardana)
Video by Wickrema