---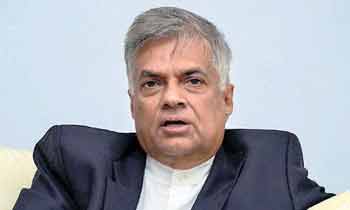 Prime Minister Ranil Wickremesinghe is to discuss a request made by the defence authorities to extend the state of emergency with President Maithripala Sirisena, sources close to Mr. Wickremesinghe said yesterday.
The defence authorities had suggested that it would be wise to delay lifting the state of emergency until the investigations on the recent incidents in Kandy are concluded.
Sources from the Prime Minister's office said defence authorities, including the Chief of Defense Staff, had requested that the emergency is extended till investigations into the incidents in Kandy are completed. They had also informed the Prime Minister that 70 percent of the investigations had been completed as of now.
Sources said the Prime Minister will refer the matter to President Sirisena when he returns from Japan today (16).
Meanwhile, the Prime Minister had proposed that four ministries namely Buddha Sasana, Disaster Management, Posts and Muslim Affairs and Resettlement, Rehabilitation and Prison Reforms should jointly handle the task of assessing and paying compensation to those who were affected by the recent riots in Kandy.
Sources said temples and mosques which were damaged will also be compensated. (Yohan Perera)