---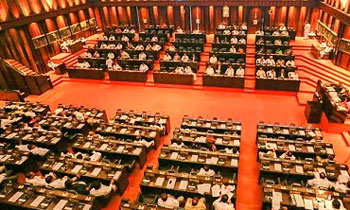 Government and Opposition MPs yesterday complained about the delay in taking action against corruption by the Bribery Commission.
The complaint was made during the oral question sessions in the House last morning.
Janatha Vimukthi Peramuna (JVP) MP Bimal Ratnayake who complained initially said the Bribery Commission has become lethargic after the removal of former Director General.
He therefore said the process of setting up special courts to hear cases on corruption should be expedited.
Government MP Buddika Pathirana said the Bribery Commission had not done anything with regard to two complaints made by him in 2015 and in 2017.
Joint Opposition MP Ranjith Soysa said the Commission had not taken any action on complaints he had made against two ministers in the present government.
MP Chaminda Wijesiri said the Commission had failed to take action on complaints made by him during the time he was the Mayor of Bandarawela.
JVP MP Nihal Gallappathi said nothing has been done about the complaints made by him with the Bribery Commission in 2005.
Meanwhile, Chief Government Whip Gayantha Karunatilake found fault with the CID for failing to take action against the person who was engaged in slinging mud at him on social media allaying he distributed bananas to flood victims.
Also it was revealed that Bribery Commission had completed probes on 1999 complaints out of the total of 3345 received in 2014, while it had carried out investigations on 2515 complaints out of 3913 received in 2015.
Only 1200 investigations have been carried out in 2016 though it has received 3450 complaints. Bribery Commission has conducted investigations to 518 complaints as at June 30, 2017 though it has received 1322 complaints. (By Yohan Perera and Ajith Siriwardana)