---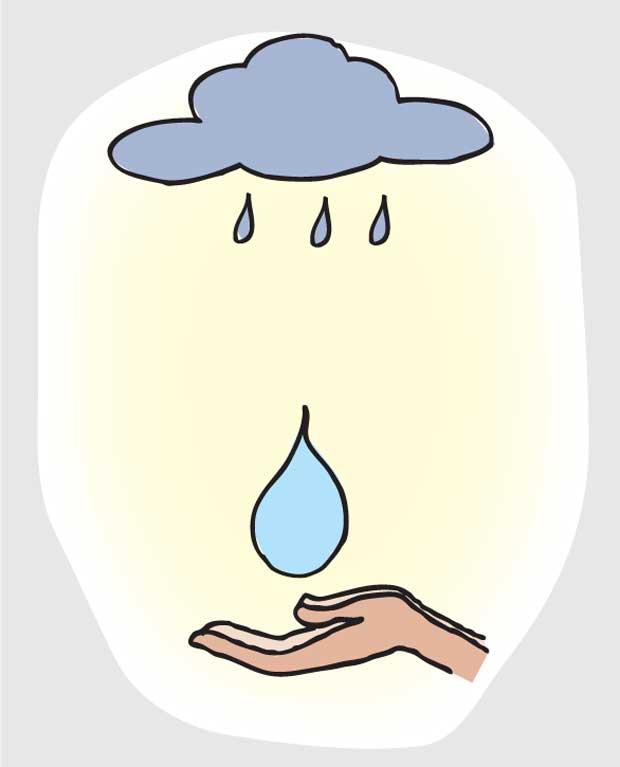 hether patterns now are largely unpredictable mainly due to the pollution of the ocean and the rising of the sea temperature. Hopefully in Sri Lanka the South-West monsoonal rain appears to have started in most parts of the country though hundreds of thousands of people are still without fresh water for drinking, cooking and other essential purposes.
In what is selfish terminology we often describe rain as bad weather. Rain may be inconvenient and cause problems for some people. But for the oceans, the rivers and the species living in them, forthe earth, the trees and plants rain is a blessing, not bad weather.
In this day and age of modern digital technology and positive thinking to find creative, eco-friendly solutions in the battle against climate change, we need to reflect deeply and on how we could even in a small way conserve rainwater.
The National Unity Government, as part of its battle against climate change, needs to revive action for the renovation of tens of thousands of 'Wewas' where for thousands of years -- through the marvels of ancient engineering -- rainwater was conserved for use in time of drought. This came on the guidance of our Great King Parakramabahu who told us that not a single drop of rainwater should be allowed to go waste. In 2005 the Janatha Vimukthi Peramuna which was then part of the administration, launched a massive project to renovate some 10,000 Wewas. But after the JVP quit the government in a dispute over the solution to the ethnic crisis, the Wewa revival project also was abandoned. We hope President Maithripala Sirisena, taking a personal and proactive interest in the battle against climate change will initiate urgent and effective steps to revive the wewas.
At a personal and family level people also need to become aware that conserving fresh water is a sacred responsibility. This could be done in many ways. When washing our hands or utensils we should open the tap only halfway and also cut down on our shower times. If each of us could save about 10 litres of water a day then the total saving will be about 220 million litres.
Some families also need to seriously think of installing rainwater harvesting equipment. There are several agencies providing this non-profit service and one of them is the Lanka Rainwater Harvesting Forum. It says its vision is to lead the nation in rainwater harvesting technology, construction and utilization to sustain water needs. The mission is to promote, create awareness and build capacity on rainwater harvesting technology through facilitating, sharing and exchanging of knowledge.
A project has also been launched to provide safe disaster-resilient drinking water to flood and drought-prone areas in Sri Lanka. The project's objective is to promote rainwater harvesting systems as a practical, disaster resilient water supply option for dry zone areas by demonstration and building the capacity of officials, professionals, community and school children on rain water harvesting and ground water recharging technology. This project funded by the Unites States Agency for International Development (USAID) has been launched in the Badulla and Moneragala districts of the Uva Province and the Kilinochchi district in the Northern Province.
Project activities include the construction of 45 demonstration rain water harvesting systems (storage and/or recharge) in rural schools, establishment of 10 demonstration RWH systems in Rural hospitals or Medical Clinics, the construction of 360 domestic rain water harvesting systems and the rehabilitation of 400 RWH disused systems in the project areas.
Whatever happened or did not happen in the past, we hope all people will cooperate in the mission of saving water because it is a sacred duty.