---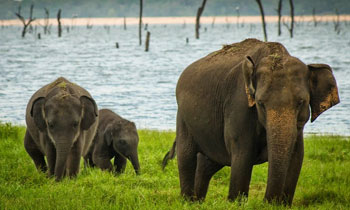 The government's decision to handover the elephants involved in court cases back to their owners for a bond of Rs.10 million with a valid license was not merely a violation of the law, but also an encouragement to all those who illegally possess elephants, Environmentalist Jagath Gunawardena said recently.
"Sustainable Development and Wildlife Minister Gamini Jayawickrema has submitted a Cabinet paper ordering the release of 35 detained elephants with the intention of using them for religious events. However, if there were a shortage of tamed elephants for this purpose, then the relevant authorities could hire such elephants from the tourism industry. There is no need to release detained elephants to fill the void by violating several laws including the Flora and Fauna Act," Mr. Gunawardena told a news conference recently.
Attached with the Cabinet paper is a report, devised by a special committee headed by Minister Sarath Amunugama, which recommends the confiscation of five elephants from the owners who did not hold a valid license.
"There are six cases in courts in connection with the registration of elephants. In many cases, the poor animals die while in captivity. It is however recommended that legal action be taken against those who aid and abet to produce forged documents to acquire the elephants. Most of the accused are wildlife officers," Mr. Gunawardena said. (Thilanka Kanakarathna)