---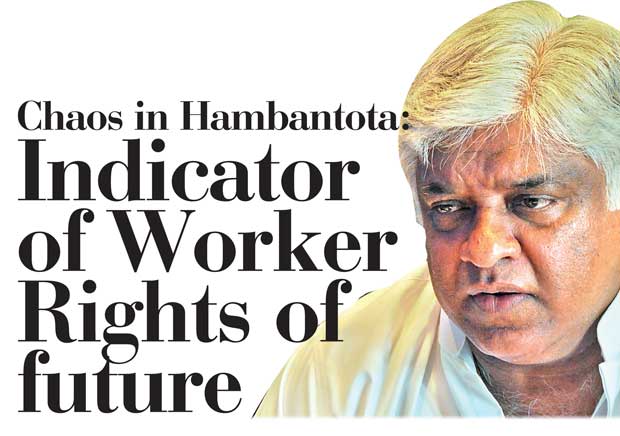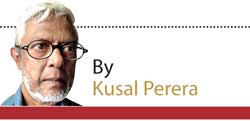 "These employees had no legal document issued to validate their employment. I personally visited the employees at the Port and briefed them about the actual situation of their employment. Most of the employees were recruited to the Magampura Harbour which had been established as the Magampura Port Management Company (MPMC)," Ports Minister Arjuna Ranatunge was quoted in the DM Online 12 December, 2016.
The Minister, while avoiding the question, who owns the MPMC, goes beyond that to assert that he would not employ any of them even if he established a new company as they could not be trusted.
He explained himself by saying:

"I will not take any of these employees because they are still influenced by the political forces and they cannot be trusted".

To begin with, let's make it clear, no government is mandated to provide employment on political loyalties and affiliations. Once voted to office, a government has to treat all citizens equal and provide equal opportunities to all.

While holding the Rajapaksa regime at fault for violating this fundamental principle in governance by using political front organisations to recruit workers, this Yahapalana Minister cannot resort to similar political recruitment using the word "trust" as his escape route.

The Hambantota port chaos that eventually dragged the Navy Commander also into disrepute, is one ugly political blunder that exposes the political arrogance of this hybrid Yahapalana government due to their total incapacity in managing the country.

It raises the question of trust the Minister of Ports Ranatunge harps on, from a wholly different perspective.

This government and its Ministers should be reminded, they were voted into power, not because a majority of the people trusted them to put all things right, but because the people wanted to conclude the Rajapaksa regime once and for all.

The 2015 January 08 vote was thus a protest vote against the Rajapaksa regime. A protest vote, more by determined Tamil and Muslim voters in dislodging the Rajapaksa rule.

The assortment of political parties and groups the UNP tied up with to come to power - small breakaway groups including SLFP, some former UNP members, the fractured JHU group and the Muslim leaders who were almost abandoned by their people, were those who enjoyed every perk and privilege in all their distorted forms as Rajapaksa loyalists.

All who were party to all the accusations and allegations committed by the Rajapaksa regime. They broke off sensing the anti Rajapaksa build up that was on the rise. The anti Rajapaksa vote was in the open at the Uva PC elections in September 2014.Yet they had to take a calculated risk no doubt in breaking off from Rajapaksa, to be in the next government and they did.

In appealing to the growing anti Rajapaksa vote this hurriedly stitched ad hoc collection with Maithripala Sirisena as their "common" presidential candidate, promised to clean up the mess and put things right. That promise was rubber stamped as authentic by the small middle class collective of NGOs in Colombo and few personalities who claimed ownership for a non-existing "civil society".
The issue of "trust" therefore comes first with this government, its "cheer leaders" and the voter.
This government is proving from day one, the people shouldn't "trust" them, though the loudest promise was on cleaning up corruption. From January 2015 to end August 2016, beginning with the first bond scam in February 2015, this Yahapalanaya can boast they've done much better than the Rajapaksas. They have at least 07 alleged mega corruptions under their belt during their first 20 months.

That includes a second bond scam in March 2016, two very questionable building rentals for unbelievably massive rents approved on cabinet papers submitted by the PM and Minister Field Marshal Fonseka, a foreign consultancy deal with McKinsey a US company of questionable repute made on a cabinet paper by the PM, another Sajin Vas type PR consultancy approved with a US company on a cabinet paper submitted by Minister of Development Strategies and International Trade, topping up with Primary Industries Minister's son getting a billion rupee road construction project, to list a few.

All that against 03 alleged mega corruptions during the first 36 months of Rajapaksa rule; the MiG 27 deal, the first phase of the Hambantota port and the Ranminitenna Cinema Village.

Rajapaksa regime took to "plunder as we like" only after they felt secure winning the second Presidency in January 2010 and the parliamentary elections in April. Particularly, after the 18th Amendment.

This Yahapalana government has taken off from where the plundering Rajapaksas were stopped. There is no reason why they shouldn't. Half of them were starving for over 17 years (discounting the short spell from 2001 Dec. to 2004 April) and the other half that wanted to continue with what they had, as often heard in numerous chat shows.

For obvious reasons, this government cannot be "clean" not counting the unprincipled "achcharuwa" it is.

A hard line neo-liberalist living in the pre 2008 global meltdown, wouldn't know the post WW II Capitalism that strived to project a decent face with accepted management standards, is no more the global investor norm.

Neo liberalism with flocks of migrant investors creates "fictitious money" as management "Guru" Peter Drucker famously called, all money that moved around globally. This migrant money he says is moved around hastily, looking for big and quick profits with an inherent possibility of creating crises. He then says, the new pattern of big managers taking up large shares of profit leaving the lower staff and workers very little to share, is a crime that society will have to pay for. (Interview with Non Profit Quarterly magazine – 1998). Ten years after his interview with NPQ, the global neo liberal economy melted down and the Western first world countries are still not back on their feet as they were.

This is reason the UNP led Government failed in their efforts to have expected investments from West and had to go the Rajapaksa way. Reason also they would do everything the Rajapaksa way for it is now, all things "made in China" and not Colombo. The Hambantota chaos is also about "made in China" business, a continuation of Rajapaksas.

The Hambantota protest started off after the Government announced they have agreed for a Chinese led PPP project in developing the Hambantota harbour with a 15,000 acre industrial park on a good as a "freehold"99 year lease.

Workers, around 480 of them, quite justifiably demanded "job security" from this government as the harbour they have been working for many years would go under a Chinese company. From what the Ports minister now tries to explain, it is clear this government does not know what employment there could be under the Chinese.

Perhaps whatever jobs available with the Ports Authority, is saved for Ranatunge's men and women from Gampaha and Kalutara. They cannot be thus given away to Hambantota from where all these workers come from.

The crisis therefore is about political patronage in providing employment and being unable to guarantee job security under the Chinese company.

This would be the fate of all workers the government promises to provide employment, with the Chinese company in the proposed Hambantota industrial park and in the existing and in new export promotion zones proposed in the Budget 2017 to be run by private companies.

As new investment is sought for these special zones and if they do come, most would be from China. With that this government will not be able to guarantee labour laws and labour rights will be applied in any of these zones. And no Chinese employer investing in these FTZs would allow any labour law to be effective within companies they manage.

These would be small clones of massive Chinese EPZs that have millions working very much as "slave labour". Even products like Apple had to defend their assembly by Foxconn in Chinese EPZs against serious labour exploitations that include low wages and overtime pay and lack of independent trade unions and collective bargaining.

The BBC reported in May 2016Foxconn fired 60,000 workers after automating their factories. Suicides due to low wages and poor working conditions in Apple product assembly in Foxconn plants were high in 2012 say other reliable media sources.

In an exclusive report by the ILO as Working Paper No.21 on "Export processing Zones ; Comparative data from China, Honduras, Nicragua and South Africa" says, "Evidence suggests that EPZs present employers the opportunity to circumvent workers' rights with impunity, and there is a growing consensus that employers lack resources and the desire to police the zones."

The worst is, the report continues to confirm, "Even when laws exist, governments often do not have the resources to hold offenders accountable" (page 03)
This would be the scenario in time to come.

Hambantota may be just a beginning with everything "Made in China" allowed with impunity and workers and the media treated the way they were treated by the Navy recently, when they protested.