---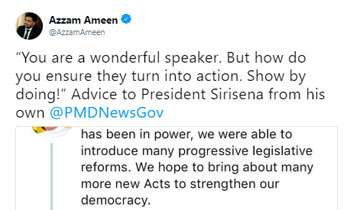 BBC journalist Azzam Ameen has been asked to report to the Cyber Crimes unit of the Criminal Investigation Division (CID) this morning (10) so that a statement could be recorded from him.
It was reported that the BBC journalist was summoned over a tweet made by the President's Media Division's (PMD) twitter handle in response to one of the tweets made by President Maithripala Sirisena's official twitter account.
Ameen had re-tweeted a screenshot of the two tweets with one of his comments.
The tweet by the President said "In the short time that my administration has been in power, we were able to introduce many progressive legislative reforms. We hope to bring about many more new Acts to strengthen our democracy."
The PMD twitter reply to the President's tweet was "You are a wonderful speaker. But how do you ensure they turn into action. Show by doing!"
The PMD later posted a twitter massage stating, "It seems for a brief moment the @PMDNewsGov twitter was compromised. The account has now been recovered and PMD is investigating the matter."