---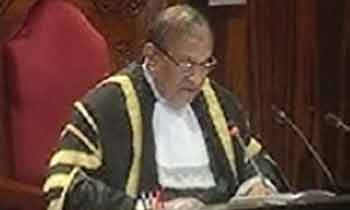 Speaker Karu Jayasuriya yesterday dismissed a claim made by UNP MP Ravi Karunayake that he had obtained a copy of the report and confirmed that the Bond Commission report was only forwarded to the president's office, Parliament, the Attorney General and the Central Bank.
He said this when responding to questions asked by several MPs and statements made by the Campaign for Free and Fair Election Executive Director Keerthi Tennnekoon that the report was incomplete.The Speaker said the report had no missing pages and in itself a complete document.
"I checked this with the presidential secretary, who assured me that the report was complete and and has not been sent to any outsiders other than the CB, the AG and Parliament," the Speaker said.
Opposition MP Chandrasiri Gajadeera asked the Speaker what action he would take if the presidential secretariat had not sent a complete report.
"I can only convey the assurance given to me by the president's secretary and not comment on what others say," the Speaker replied.
Chief Opposition Whip Anura Kumara Dissanayake suggested that the president's secretary should be summoned to Parliament if the report is incomplete report and not the one submitted to the President by the PCoI. (Yohan Perera and Ajith Siriwardana)