---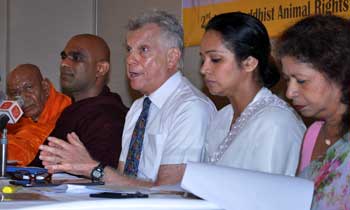 Four Buddhist and animal rights organizations called for a ban on meat consumption in Sri Lanka on Mondays and urged all Buddhists in the country to refrain from eating animal products during the month of May when Vesak is celebrated.
The heads of these organizations -Anagarika Dharamapala Humanitarian Foundation, Dharma Voices for Animals (DVA) , Bodhi Raja Foundation and Youth Non-vilolent Movement- told a news conference that they requested all people of Sri Lanka to refrain from eating meat on Mondays and all Buddhists to become vegetarians during the month of May as a first step towards converting Sri Lanka into a non meat-eating society.
Senior member of the Anagarika Dharamapala Humanitarian Foundation Dr Lanka Jayasuriya Dissanayake said the objective of the organizations that have come together was create a meatless society. "As a first step towards creating a meatless society, we would like to call all Sri Lankans to refrain from eating meat on Mondays and all Buddhists to become vegetarians during the month of Vesak. Ms. Dissanayake, the daughter of Speaker Karu Jayasuriya and the spouse of Minister Navin Dissanayake, said the organizations would also campaign to educate people to prepare a healthy meals for alms . She made this request by revealing that research had confirmed that 75 percent of local Buddhist monks suffered from diabetics.
DVA Board Member Venerable Peradeniye Sathindriya Thera said the number of cattle heads slaughtered in Sri Lanka had been reduced to 170,000 in 2016 compared to 200,000 in 2013. However he said the cattle slaughter was high in the East particularly in Batticaloa and Ampara Districts. He said WHO had affirmed that meat consumption had been a major cause of cancer and other noncommunicable diseases later.
Venerable Ahangama Ananda Thera said the petition signed by nearly one million people during the 2600th Buddha Jayanthi calling for the ban on cattle slaughter had not been implemented. He said the organizations would fight for it in the future. "Catholic, Christian and Islamic priests who saw the video clips we showed to the public during the Buddha Jayanthi were convinced and they signed the petition together with us," he said.
Dr Damayanthi Perera a professional Dietician said the research in which she too has been involved had revealed that the conclusion that meat consumption had been the number one cause of cancer. Also she said the notion that milk is essential for the growth of humans right throughout had been proven wrong as well. Besides she said it is ironic that human beings are dependent on other animals for milk. Dr Perera said research had also confirmed that animal parts such as eyes of cattle are being used for various meat products such as sausages. 'It is also important to prevent animal farming business that would come to Sri Lanka in the form of foreign direct investments," she added. (Yohan Perera)