---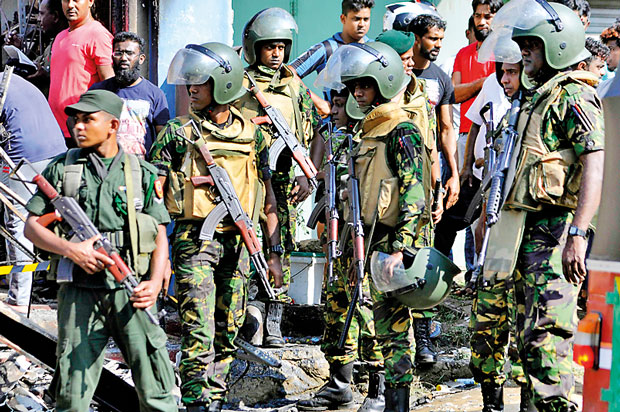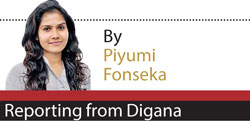 "They create a communal clash or put fuel to the fire to intensify the on-going clash. Every Government maintains its power with the full awareness of separating the society into race and class." This particular dialogue from Sahodaraya (Brother) teledrama telecast on ITN every weekend indicates the bitter truth behind communal clashes and issues related to racism.
The ugly head of racism rose its head recently in Digana and Teldeniya areas following a death of H.G. Kumarasinghe, a 41-year-old father of two, who succumbed to head injuries sustained during an assault.

Even though this was an isolated incident, which had nothing to do with racism, the incident later raised fears of renewed 'racist campaigns' and violence targeting minority communities. Social media which has turned itself into powerful source of media in
Sri Lanka, has been used by many parties with the aim of spreading false messages and painting a 'racist' picture regarding the incident.

The incident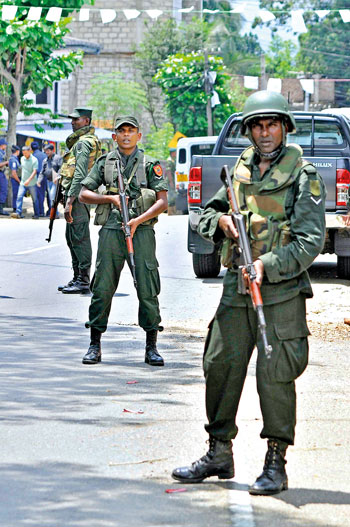 The road incident took place on February 22 (Thursday). An exchange of words between the late Kumarasinghe, who was driving his lorry accompanied by his assistant, and four other people, who were travelling in a three-wheeler , occurred when the two vehicles met face to face, while taking turns in a junction in Teldeniya. The seconds-long argument had led to a brutal attack. Before the attack, the lorry driver had not allowed the three-wheeler driver to overtake his vehicle and the two vehicles were stopped near a filling station in Teldeniya where the four people in the three-wheeler started assaulting Kumarasinghe. Kumarasinghe who sustained severe head injuries was admitted to Teldeniya Hospital from where he was later transferred to Kandy General Hospital. After nearly 10 days in the Intensive Care Unit, Kumarasinghe succumbed to his injuries on 3 March (Saturday). Subsequently, reprisal attacks, which triggered off on March 5 afternoon, set the Digana town ablaze. Dozens of shops were burnt down causing colossal damage to their owners.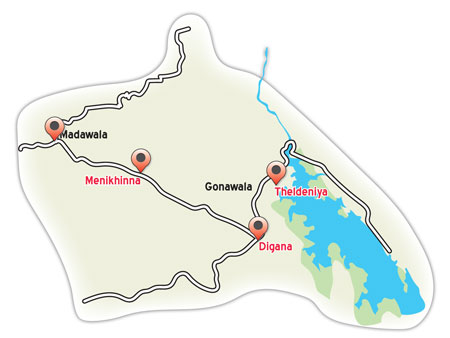 By March 5 evening, Police curfew was declared in Digana and schools were declared closed in the entire Kandy District. Over 1000 policemen, 300 STF personnel and 300 Army troops were deployed in Kandy to control the situation and prevent it from turning into an inter-communal catastrophe.
Twenty-four persons connected to the violence were arrested by the Teldeniya Police.

President Maithripala Sirisena called for calm and demanded an independent police inquiry into the Digana violence. President Sirisena also urged law enforcement authorities to ensure the safety and security of residents in the area.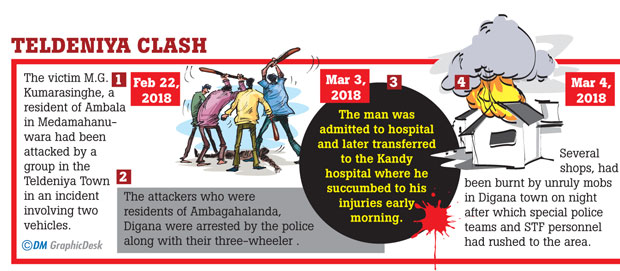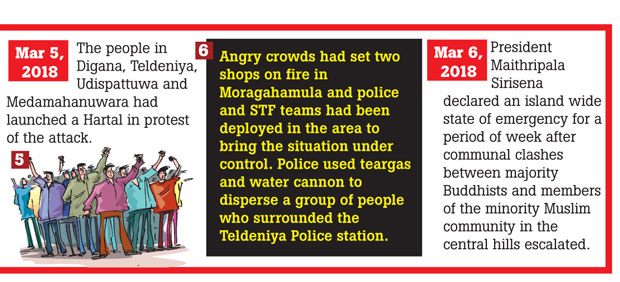 "Why did innocent people like us have to suffer"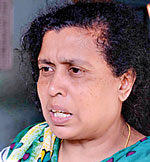 Minsila, another resident from Balagolla, broke down while narrating how her son's shop was completely destroyed during the attack on March 5. "We hid inside our house to save our lives. Although we heard the noises of the attack and witnessed how the shop came under attack, we could do nothing. We were really helpless and crying in fear. They didn't enter our house and didn't physically attack anyone. "I am asking them as to why innocent people like us had to suffer for something which we had no involvement in? If someone has committed a crime, the attackers should have looked for the culprits and dealt with them. We had nothing to do with the so-called racist attack. My son started this shop from his hard-earned money after years of struggling abroad. We are so poor and can't really bear these damages. We are requesting the Government to help us stand up on our feet again," Minsila said.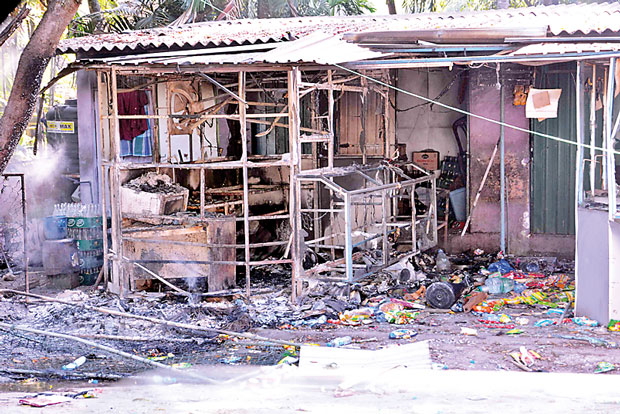 "Those destroyed our businesses should be dealt"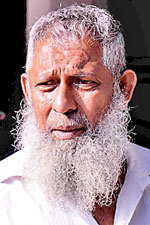 Among the people whose shops and houses were damaged at the time of the retaliation, S. M. Naufer, from Balagolla, Pallekele, speaking to the Dailymirror, said that those who had destroyed his business should be brought before the law and those who had to experience colossal financial losses, due to the attack, should be eventually given adequate support to restart their business. "After we got to know mobs were heading towards our places, we locked our shops and ran, in search of safe places. About 1000 people came in groups and started destroying our properties. Some groups came in buses. They were bearing metal and wooden clubs. They didn't have any other weapons. There are three camps of Tri-Forces close to our area. Yet, none of them came to stop the attack," Naufer said.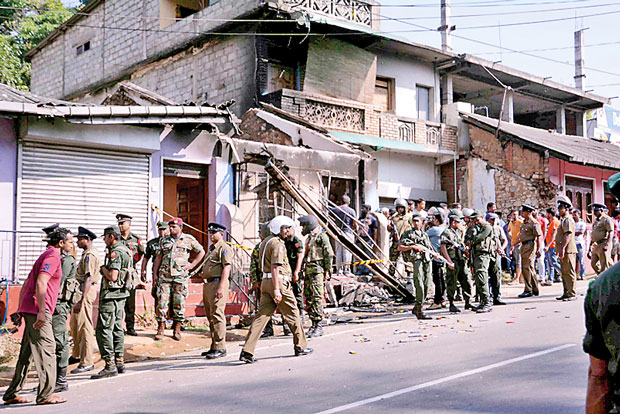 ---
'We all are sons and daughters of the same mother and father"

Fazil
On March 6 morning, a dead body of a 28-year-old male was discovered inside a shop in Diyabubula, Pallekele. Samsudeen Abdul Basith was inside the shop when the mobs set the shop ablaze. His brother Samsudeen Mohommed Fayaz, who was also inside the shop, was admitted to the hospital on Monday (5) and is currently undergoing treatment at the Kandy Hospital.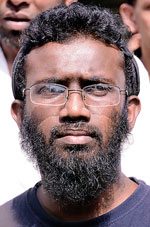 Samsudeen Mohommed Fazil is the eldest brother of late Basith. Speaking to the Dailymirror, Fazil requested all religious groups to leave all communal disparities behind and join hands.

"I asked my parents and two of my brothers to go to a safe place without staying inside the house. They could not do so. I came to know that our house and our shop were ablaze. I thrice tried to reach the area. But, the mobs didn't let me. I tried calling my parents and brothers. They said if they came out, they were anyway going to die as the area was surrounded by mobs then. "Later on, I came to know that my parents managed to escape from rear door of our house. One of my brothers sustained burn injuries. He is currently being treated at the Kandy Hospital. We had no idea about our younger brother. I accompanied my father to see our burnt house and looked for our belongings. That was when we discovered our younger brother's remains inside the washroom of our house.

Apparently, he had died of breathing difficulties due to smoke. There were no severe burn injuries to his body. Meanwhile, Fazil requested all the religious groups not to create any disastrous situations. "There is no need to continue these clashes. I am requesting all groups not to fight anymore because no good will come out of it. We all are sons and daughters of the same mother and father. We all have the same red blood. We are separated only by religions and races. It is not fair to attack innocent people like us. We are living in Pallekele in peace and harmony. Don't destroy the unity in our area to fulfill any personal agendas,"he said.
---
"People were provoked to react due to the failure of Teldeniya Police"
Sumanarathana Thera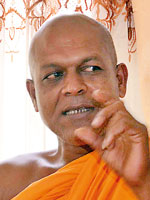 The Chief Incumbent of Mangalaramaya, Batticaloa and Sri Sudarshanaramaya in Kandy Ampitiye Sumanarathana Thera said that neither the Muslims nor the Buddhist groups are to blamed for the clash. "Our people were pushed to react due to the failure of Teldeniya Police. Police failed to take immediate action against the assailants of Kumarasinghe. Instead of doing their job, the OIC of Teldeniya Police was transferred.

"Later, Kumarasinghe was pronounced dead. The delay on the part of the police in taking action resulted in the retaliation. None of our people wanted any fights. Somehow a group of men who were under the influence of alcohol had set a shop on fire on Sunday (4). We don't approve of that attack. Six people who were involved in the incident were arrested.

"Meanwhile, Police nabbed dozens of men who had come to the funeral from several areas. They had no involvement whatsoever in the attack. The villagers were forced to take to the streets in protest of the arrests. We demanded the immediate release of our people who had nothing to do with the
said incident.
I am not afraid to say that the Police is to blame. They should have taken action during the needy hour

"Parents were demanding the release of their innocent sons. We were asked to wait for hours on the road by Police. After Kumarasinghe's funeral was over, our people started retaliating. "I am not afraid to say that the Police is to blame. They should have taken action during the needy hour. I have no connection with Bodu Bala Sena or any so-called religious group. This is not backed by any politician or any international agency. Our men are not racists. Don't even try to call them as racists.
---
"The life of my husband can't be brought back"

: Pushpakumari
Thilaka Pushpakumari, widow of the 41-year-old driver Kumarasinghe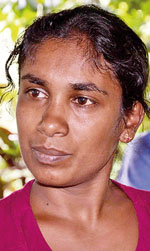 said that fighting can't bring back the life of her husband. "There is no point in fighting and claiming more precious lives of the people and making more widows like me. My husband was so innocent and everyone in the village adored him.

Working as a driver, he looked after me, his mother, our disabled son and the daughter. We have become so helpless now. We have no future now. Honestly, we don't have much hopes and confidence that the Government will support us,"she said.
---
Long-term policy interventions needed to address the root causes
of ethno-religious violence

-Prof. Siri Hettige
Renowned Sociologist Prof. Siri Hettige said that Ethno-religious violence has been a common occurrence in this country for the past seventy years or more.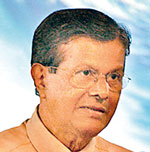 "The phenomenon has got more entrenched in society in more recent years. There are obvious and not so obvious causes for this situation. But, when such incidents take place the immediate reaction has to come from the law enforcement authorities. The responsibility of the Police is to take all measures necessary to prevent the escalation of violence and enforce the law in terms of follow up legal action.

"Given the fact that such violence has not been uncommon, by now, the law enforcement authorities don't need any guidance from politicians as to what to do. It is hoped that they would do the needful and leave no room for the spread of violence. But, as a country, we need to do more than mopping up operations after each incident and forget about the simmering ethno-religious tensions that often trigger violence in different parts of the country from time to time.
We need long term policy interventions to address the root causes of ethno-religious violence
This is where we need long term policy interventions to address the root causes of ethno-religious violence that has taken the country back economically and socially by several decades and encouraged many people to leave the country. "Given the fact that ethno-religious identities and tensions are the result of what happens in a whole range of areas such as education, politics, media, etc. , a reduction of ethnic tensions can be achieved only through a range on interventions . But, what happens in the country is that violent incidents are forgotten until the next round of violence erupts and no attempt is made to initiate long term measures that are absolutely necessary to sustain unity and reconciliation among ethnic and religious groups. "These measures include the adoption and implementation of progressive policies and institutional reforms . Yet, if we go by our experience in the recent past, this is too much to expect from our politicians who are more concerned about their own political fortunes rather than the pressing problems of the masses including life and death issues like violence directed against different communities from time to time," said Hettige.
---
A deliberate and purposeful build up of tension done for political reasons

-Jehan
Executive Director of National Peace Council Jehan Perera said that thesudden eruption of anti-Muslim violence in Kandy is a big blow to reconciliation in the country. "The sudden deterioration of law and order threatens to pit community against community. Having only just come out of a thirty-year war, it looks like we are being pushed into a new one.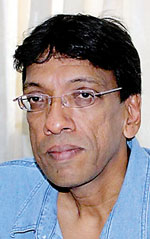 The Government must ensure that law and order is maintained through effective police action. If anyone takes the law into his or her own hands, and practices violence against another, such individuals should be arrested. In this context the declaration of a state of emergency for a limited period is appropriate as long as there is both Law and Order and Rule of Law. Law and Order is to restore social peace. "Rule of Law has to follow a due process and not act outside of the law. After enduring three decades of civil strife and internal war and now having to answer to the international community at the UN Human Rights Council in Geneva, Sri Lanka must not go through another cycle of violence which targets Sinhalese, Tamils or Muslims.
Having only just come out of a thirty-year war, it looks like we are being pushed into a new one
It is like we are back in the past, when there was fear in the air. We thought we had got out of this fear when the war concluded. But once again there is this feeling of fear. It is necessary that the Government and state institutions, especially the police, should take immediate deterrent and punitive measures against the miscreants and those giving them political and ideological backing. "The Government has a duty to reassure the people that they are equally deserving of the protection of the state, and will receive it. The Government leaders must come out and talk to the people and reassure them. It is not enough to utilize the levers of power from behind the scenes. The Government leaders must act, make public speeches take the people with them.

There is a deliberate and purposeful build up of tension. This is being done for political reasons by those who do not have mass support. There is an artificial attempt to show that the Government is weak and ineffectual and can't protect the Sinhalese like those in the opposition can,"said Perera.